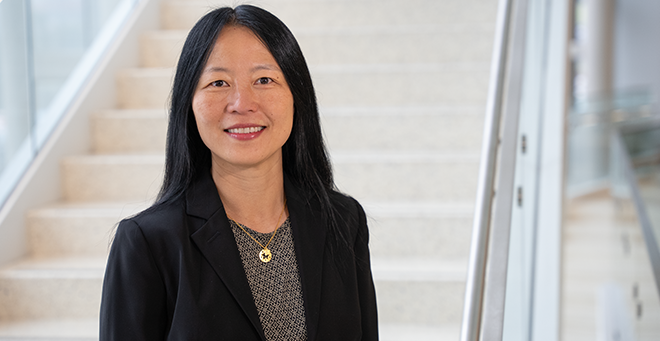 Zhiping Weng, PhD, the Li Weibo Chair in Biomedical Research, professor of biochemistry & molecular biotechnology, and founding director of the Program in Bioinformatics & Integrative Biology, has been named the inaugural chair of the newly formed Department of Genomics & Computational Biology. An international leader in the field of bioinformatics and computational genomics and an esteemed mentor and colleague, Dr. Weng will lead the department that succeeds the Program in Bioinformatics & Integrative Biology.

The elevation of this novel research program to department status comes after significant growth under the leadership of Weng. Since its inception in 2008, it has expanded to include 10 faculty members comprising a cadre of highly recognized scientists doing diverse, cohesive and ground-breaking work. Program faculty have advanced and received national recognition for their research deciphering functional elements of the human genome through computational methodology, integrating large amounts of genomics and epigenomics data, performing comparative analysis across mammalian species, and leading large-scale consortium science.

Weng was recruited to UMass Chan to lead the Program in Bioinformatics & Integrative Biology in 2008 from Boston University. As the program's leader, she recruited faculty and built a thriving research endeavor that has established this institution as a leader in genomics and computational biology. She was a principal investigator of the ENCODE Consortium (2002-2022), a large international project funded by the National Human Genome Research Project, whose primary aim was to assemble a comprehensive list of all the functional elements in the human genome and decipher their functions. She led the data analysis center for ENCODE during its second decade, for which she received $7.2 million in NIH funding. As principal investigator, she leads the data analysis and coordination centers of the psychENCODE Consortium and the Multi-Omic for Health and Disease Consortium, two large projects with the goals of investigating the regulatory landscapes of the human genome in normal physiology and diseases.

Her research focuses on bioinformatics, computational biology, genomics, epigenomics and transcriptional regulation. She developed the widely used ZDOCK suite of protein-protein docking algorithms, which performs a full six-dimensional search of docking orientations between two proteins. She is best known for her novel research into transcriptional regulation using large-scale genomic and epigenomic data. She is also known for her work on small RNA biology, especially piwi-interacting RNA, in collaboration with her experimental colleagues at UMass Chan.

Educated at the University of Science and Technology of China, Weng received her PhD from Boston University in biomedical engineering, where she carried out thesis research on the biophysical chemistry of protein-ligand binding with her mentor Charles DeLisi, the Metcalf Professor of Science and Engineering at Boston University, recognized for his major contributions to the initiation of the Human Genome Project. In 2020, Weng was elected a fellow of the International Society for Computational Biology for her outstanding contributions to computational biology and bioinformatics.