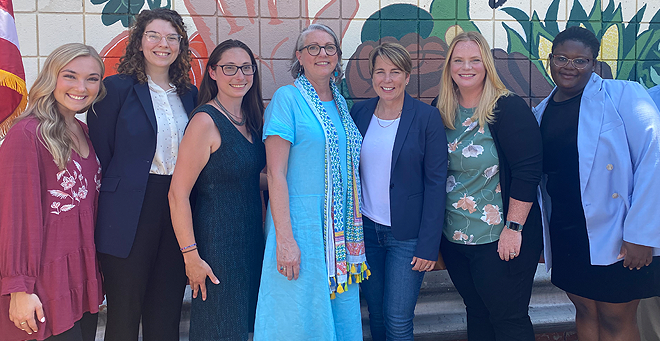 By early next summer, UMass Chan Medical School is working to open its new Wellness Farm, a 40-foot hydroponic freight farm that can produce up to three tons of produce each year.
"The Wellness Farm advances our investment in the community in terms of well-being and does it in a way that empowers UMass Chan employees and students to have innovative, hands-on opportunities," said Erin Almstrom, assistant director of the UMass Chan Office of Well-Being. "This farm demonstrates our commitment to increasing nutritional access to those who need it most, and enjoying the mental health benefits associated."
The Wellness Farm will be constructed at the rear of the Office of Well-Being's Anderson House at 382 Plantation St. The construction is possible thanks to a $420,000 Food Security Infrastructure Grant from the state's Executive Office of Energy and Environmental Affairs. UMass Chan is one of 165 program grantees in FY24 and one of just two institutions of higher education to receive a grant.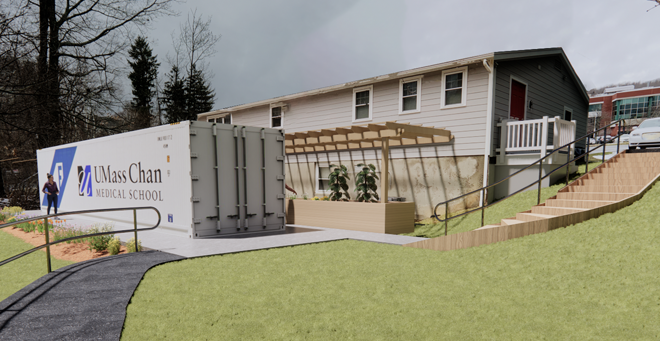 In partnership with 2Gether We Eat, a local nonprofit and community-based youth hydroponic farming program, the Office of Well-Being is collaborating with UMass Chan's Office of Sustainability and Office of Community and Government Relations to ensure the Wellness Farm meets its goals of providing more equitable access to nutritional food and distributing food to address the needs of families in the Worcester area.
"By blending the goals and objectives of UMass Chan Medical School and our own relationships and connections, it became clear that the farm was a win-win. We can introduce 2Gether We Eat in a new neighborhood and UMass Chan can accomplish their goals of feeding their populations, in their wellness and food spaces. And we can do that together," said Linda Cavaioli, co-chair of 2Gether We Eat.
2Gether We Eat operates freight farms at Vernon Hill Elementary School and Elm Park Community School in Worcester.
"It's a unique partnership between the Medical School and a community organization that places an emphasis in medical education on nutrition and it's an opportunity to build that living lab in our community," said John Erwin, vice chancellor for government relations at UMass Chan.
The hydroponic farm will support nearly 13,000 plants and will use less than five gallons of water each day. It will be the first site on UMass Chan's campus to include an on-site solar array, which will be placed on the Anderson House to help power the freight farm.
"The freight farm aligns with some of the key elements of our sustainability and climate action plan, specifically around grounds management and resource management as it relates to food systems and supports some of our energy goals," said Suzanne Wood, associate director of sustainability and campus services at UMass Chan.
The freight farm is expected to be staffed for roughly 20 hours a week by UMass Chan volunteers and local high school students through 2Gether We Eat as part of its efforts to train and educate young people on how to work a hydroponic farm and the potential these farms have in addressing food deserts in Worcester.
"What we do is grow the food, teach the kids how to grow it and donate it all back to the community to fight food insecurities. We look at farming as a great tool to do a lot of great things in our community," said Charles Luster, co-chair and founder of 2Gether We Eat. "What we're looking at with UMass Chan, is to add another grassroots community-based farm with all of the people from the community playing a part in our organization."
The farm's harvest will be divided between the Max Baker Resource Center food pantry, food pantries at the Worcester public schools in the North Quadrant and local community groups, and provided to UMass Chan staff members in need.
Through the UMass Chan Cares program, paid employees will be able to use up to 16 hours of scheduled work time per year to volunteer at the freight farm.
Construction is expected to begin in spring 2024. Once completed, the Wellness Farm will be open year-round.