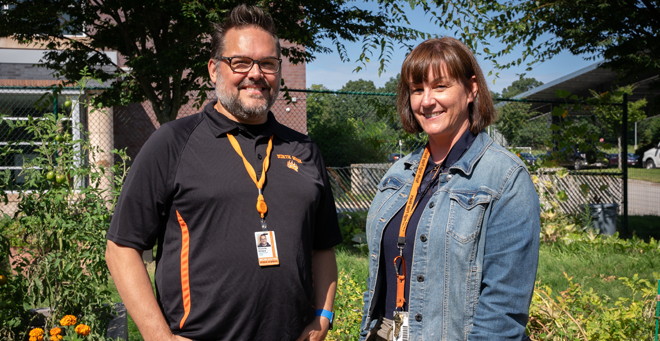 An innovative science class that teaches Worcester North High School students about agriculture through hands-on lessons in a community garden is about to become fully accessible and inclusive for all students. Three adaptive planter boxes will be installed, thanks to a classroom mini-grant funded by the generosity of UMass Chan Medical School employees and students through the North Quadrant Support Services initiative.
Richard Howarth, EdD, who has worked as a science teacher for 29 years at North High, applied for the $1,500 grant for a class he teaches called Urban Agriculture and Food Systems, in which students focus on gardening skills during the fall and spring, and study food systems in the winter months. The North High garden grows onions, green beans, tomatoes, kale, eggplant, strawberries, garlic and more. Students take food home from the harvest and a portion is distributed to community refrigerators throughout the city.
"I found garden beds that are high enough for a wheelchair to fit under. The idea is, by getting those types of beds out here, the garden can be more accessible for all students here," Dr. Howarth said. "It needs to be more inclusive of kids."
More than $34,000 in grants from the UMass Chan North Quadrant Support Services initiative was awarded to 28 teachers and staff at nine North Quadrant schools in Worcester. The city's North Quadrant schools include North High, Worcester Technical High School, Worcester East Middle, and Belmont Street, Roosevelt, Grafton Street, Rice Square, City View, Union Hill, Vernon Hill, and Lake View elementary schools.
The classroom enrichment mini-grants are available to teachers and staff at any of the North Quadrant schools as part of the initiative. In all, 52 proposals were submitted in 2023 for projects for which city or school funding is not available. The 28 grants of up to $1,500 each were awarded and dispersed in June.
Maura Doyle, a special education teacher at North High, received a grant to help fund the school's Life Skills Fitness for All program, which will provide swimming and fitness programs for students in the school's Life Skills program at the YMCA in Worcester.
Doyle and an instructional assistant will accompany two to four students once a week to use the YMCA's therapeutic pool, fitness equipment and various low impact fitness classes. The grant will provide funding for monthly fees for students and teachers to attend these sessions.
"For these students to know what's out there for leisure activity is vital. Without leisure skills, they will be sitting at home. For them to know the YMCA is there for them so they can swim, do Zumba and arts and crafts, it's essential in their life. Swimming is something that's going to keep them active. It's super important," Doyle said.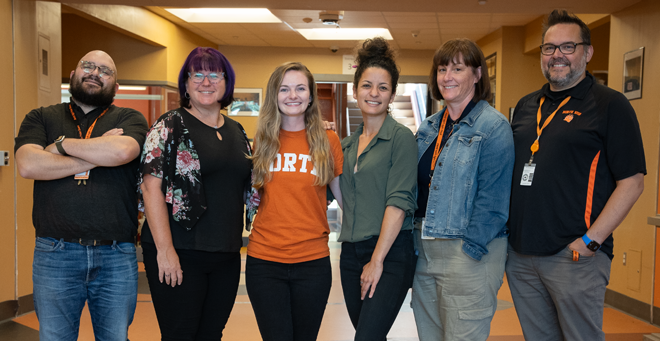 Howarth and Doyle are two of seven North High teachers who received grants this year. Other funded projects from the school include purchasing EMT uniforms for students in the EMT Certificate Program; the development of an improvement initiative action plan for students whose barriers prevent them from attending and being successful in school; graphing calculators for the AP pre-calculus exam; podcast equipment for the North High school newspaper; and an iPad, Apple Pencil, Apple TV and Notability software for an English as a Second Language (ESL) classroom.
UMass Chan established the North Quadrant Support Services initiative in 2017 with grant funding from the Remillard Family Community Service Fund to address socioeconomic barriers to academic success.
The grants were funded by students, faculty and staff who directed their UMass Chan Cares charitable campaign donations to North Quadrant Support Services. The North Quadrant Support Services initiative for Worcester Public School students was the top choice of donors during the 2022 UMass Chan Cares charitable giving campaign.
The 2023 UMass Chan Cares annual charitable giving campaign will launch on Oct. 30.