On a newly renovated basketball court in Grant Square Park in Worcester, UMass Chan Medical School students in the T.H. Chan School of Medicine dermatology special interest group handed out sunscreen samples, white bracelets that turn purple when exposed to UV light and laminated notecards with quick tips on how to spot melanoma.
The group has hosted numerous "Sun Safe" events in Worcester, educating runners about the dangers of sun exposure and teaching grandparents about sun safety practices for their grandchildren. The students meet people in the community where they are: local parks, veterans' shelters, women's shelters, food pantries and numerous other locations.
"It's a very humbling experience to see medicine in practice with people who can't typically access it," said fourth-year medical student Nicole Loranger, who is currently taking a research year. She plans on pursuing a residency program in dermatology. "Volunteering has taught us about what we can do in the future to make access more widespread."
"It's my hope that by bringing more students to shelters and increasing interactions with these patient populations, students will appreciate the importance of social determinants of health," said student organizer and third-year medical student Stephanie Choi.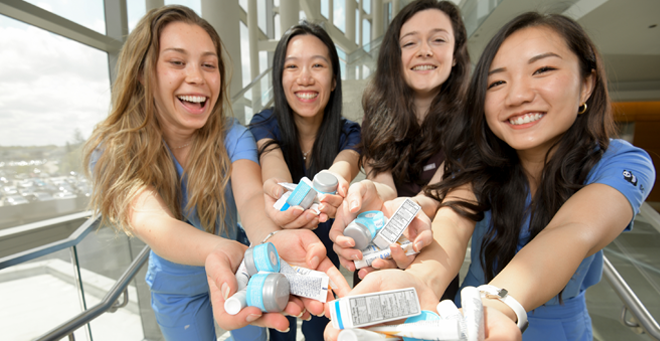 Heather-Lyn Haley, PhD, assistant professor of family medicine & community health, said she is happy to serve alongside student volunteers.
"A lot of folks from underserved populations are less likely to have access to this information," said Dr. Haley. "Lots of health issues are better solved at the community level. We're glad to connect and hear issues at a higher level so we're not trying to fix one patient at a time when some issues are caused by community-level concerns."
"It's important that these populations feel we're a friendly face to them, and that no question or need will be left unserved," added second-year med student Haley Neff. Of her experience at a women's shelter, Neff said, "We were learning from them and vice versa. It was wonderful reciprocity."
On the importance of acknowledging the limitations of resources available to some patient populations, second-year med student Jessica Orofino said, "A lot of people aren't in a position where they have regular access to water cleansing products or can get fresh clothes to keep their skin safe. We tell people about how they can protect themselves in the situations they're in."