An innovative program at UMass Chan Medical School aims to help offset a shortage of mental and behavioral health providers by attracting students underrepresented in medicine to careers in the field.
Twenty-two Worcester high school students and recent high school graduates are participating in the Dynamic Futures program, a year-long initiative that started with an intensive four-week schedule over the summer of classes, off-campus outings and team-building exercises. The program is designed to introduce students to behavioral health fields in an effort to diversify the behavioral health workforce and improve behavioral health outcomes in local communities.
"The most exciting part about this program is these students each have different interests within behavioral health," said Ché Anderson, assistant vice chancellor for city & community relations. "There are students who have interests in reentry and addiction and finding opportunities to make sure people are getting the assistance they need. There are students who are interested in assisting the homeless population and addressing food insecurity, and exploring how we meet those basic needs for people."
Throughout the academic year, each student will meet monthly with a local mental health expert who will serve as a mentor to help explore opportunities in the field. Dynamic Futures will also provide financial assistance to each student to pursue a mental and behavioral health certification. The students in the program will be paid to help train other students who want to become peer counselors. The students will also be offered a free, college-level introductory psychology course.
"We have to expand our idea of what success looks like in this field," Anderson said. "We want these students to have at least a baseline or even a comprehensive understanding of the field. Even if they don't go into behavioral health or are working adjacent to the field, if in the future they're able to talk to their co-workers, partners and family about the impact that different experiences could have on mental and behavioral health, that's success at some level."
While the program will serve the interests of its participants year-round, it focuses on four key weeks in the summer. This year's program started in July with online training, giving the students the opportunity to work within a professional, remote setting and get to know each other.
The students later stayed in residence halls at Worcester State University.
"There is a lot of bonding especially because we're living together for two weeks. We see each other every day. All the people in the program come from different backgrounds and learning about each other and our experiences is really interesting and eye opening," said Naairah Medina, a recent graduate of South High Community School.
Students also attend lectures and panels at UMass Chan to help develop language skills necessary to enter the field, learn how to prepare for college, discuss topics like intersectional identity and travel across the Worcester area. This year, students heard a panel on identity at Clark University, toured the Worcester County Jail and House of Correction, walked around Castle Park in Worcester's Main South neighborhood, had lunch at Café Reyes on Shrewsbury Street, visited AIDS Project Worcester, and attended a Worcester Red Sox game at Polar Park.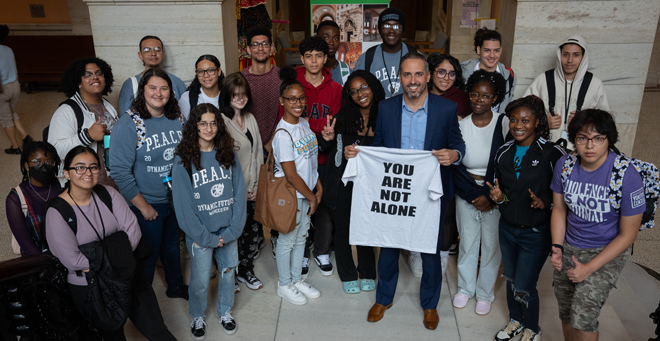 "Being in this program to study mental health, and being with like-minded students who are inclusive, open-minded and caring, and everyone really listens to you, going out to different places together as a group, and being in the middle of all of it is a great experience," said Pius Baidoo, a recent North High School graduate.
Students also participated in internships, giving them an opportunity to be on site at several organizations across Worcester County, including El Buen Samaritano; Centro, Inc.; Seven Hills Foundation; and Open Sky Community Services.
Applications for next summer's Dynamic Futures program will be available in early 2024. Students must be between 16 and 18 years old to participate and either attend or have graduated from a Worcester high school.
The Dynamic Futures program is a partnership effort between UMass Chan Medical School, ForHealth Consulting, the City of Worcester, Worcester Public Schools, the Commonwealth of Massachusetts, Open Sky Community Services, Seven Hills Foundation, United Way of Central Massachusetts, Worcester State University, Clark University, Anna Maria College, Lesley University, MassHire, the Department of Public Peace Works, Worcester Community Action Council and Moleskine.
Media coverage of the program:
Boston Globe: UMass Chan program encourages teens of color to pursue careers in behavioral health
WCVB: CityLine: The next generation of mental health professionals
Worcester Magazine: Program gives high school students insight into mental health, incarceration, homelessness