Beth A. McCormick, PhD, the Worcester Foundation for Biomedical Research Chair II and professor of microbiology & physiological systems, has been named the new chair of the Department of Microbiology & Physiological Systems (MaPS), effective Sept. 1, and Michael P. Stauff, MD, the Donna M. and Robert J. Manning Chair in Orthopedics, associate professor and former interim chair of orthopedics & physical rehabilitation, has been appointed chair of the Department of Orthopedics & Physical Rehabilitation, effective Aug. 28. The appointments were announced by Terence R. Flotte, MD, the Celia and Isaac Haidak Professor, executive deputy chancellor, provost and dean of the T.H. Chan School of Medicine.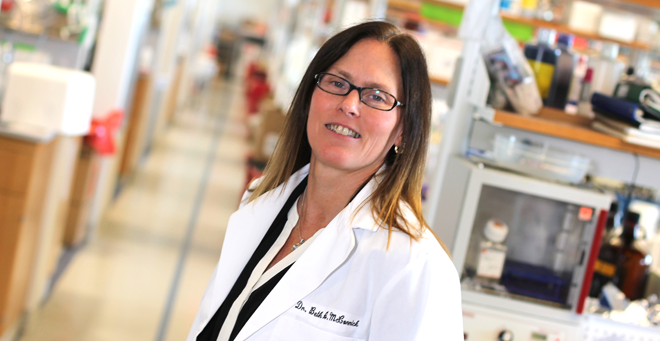 Dr. McCormick came to UMass Chan Medical School in 2008, after serving as associate professor of pediatrics and microbiology and as director of research of the Mucosal Immunology and Biology Research Center at Harvard Medical School and Massachusetts General Hospital. She has been vice chair of MaPS since 2012, serving under former department chair Allan S. Jacobson, PhD, the Gerald L. Haidak, MD, and Zelda S. Haidak Professor of Cell Biology, and professor of microbiology & physiological systems, who stepped down in July.
McCormick's research has focused on pathophysiologic mechanisms of intestinal inflammation. While starting with enteric pathogens as models, her work not only uncovered unpredicted bacterial virulence mechanisms but also universal and previously unknown host immune signaling cascades that also drive pathology in inflammatory bowel diseases (IBD) as well as cancer. Her observations have led directly to the development of new targeted therapeutics for IBD, as well as opened the field to new lines of research focused on how the gut microbiome directly impacts homeostatic sensing and signaling pathways by intestinal epithelial cells.
She is a scientific founder of Adiso Therapeutics, a clinical-stage biotechnology company creating medicines to treat inflammatory diseases where small molecule drugs developed based on her work are currently in Phase II clinical trials.
A renowned expert in mucosal immunology and microbiology of gut pathogens, McCormick founded the Center for Microbiome Research in 2014, which has evolved to become the Program in Microbiome Dynamics in 2021. The program and its research investigators integrate clinical, experimental and computational approaches to accelerate our understanding of how the human microbiome influences human health and disease with an eye toward developing microbiome-based therapeutics.
McCormick has a long track record of leadership and mentoring that has enriched the training experience of rising scientists both within UMass Chan and in the wider research community. Among her many honors and awards, she received the American Physiological Society Distinguished Research Award in 2023; is an elected member of the American Gastroenterology Association General Council and was named Mentor of the Year in 2022; received the University of Massachusetts President's Science & Technology Award in 2017 and 2014; received the UMass Chan President's Technology Development Award in 2016; and was elected Fellow of the American Academy of Microbiology in 2015. She became editor-in-chief of the journal Gut Microbes in 2021.
McCormick graduated magna cum laude from University of New Hampshire with a Bachelor of Arts degree and earned her PhD in microbiology at the University of Rhode Island. She was a postdoctoral research fellow in pathology and medicine at Brigham and Women's Hospital and Massachusetts General Hospital, and a research fellow in cancer biology at the Children's Hospital Medical Center in Boston.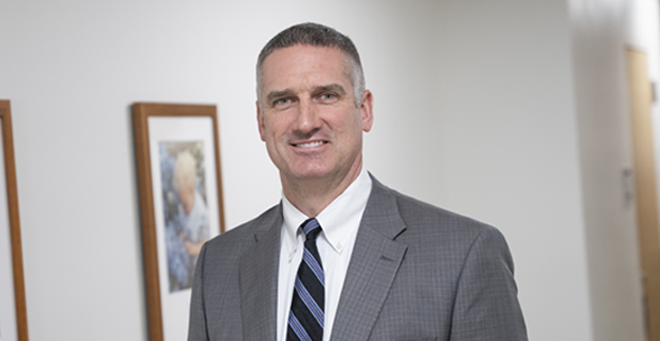 Dr. Stauff, who joined the faculty in 2013 as an orthopedic spine surgeon, served as an active-duty orthopedic surgeon with the rank of major at the Landstuhl Regional Medical Center in Germany. Upon returning to the United States, he did a fellowship at Stanford University in orthopedic spine surgery before joining UMass Chan in the orthopedic department's spine division.
During his time on faculty in the department, Dr. Stauff has developed a busy spine surgery practice and mentored many medical students and residents. He has also served in several different leadership roles, including associate residency program director, medical director for the UMass Center for Spine Health, vice chair of clinical operations, and since July 2022, as interim chair of the Department of Orthopedics & Physical Rehabilitation.
Stauff has developed a clinical outcomes research database for patients undergoing spine surgery. This work has led to multiple manuscripts and presentations at national and international conferences.
Stauff has been recognized with many honors and awards, including being named a fellow in the American Orthopedic Association in 2017 and the American Association of Orthopedic Surgeons in 2014. He holds leadership roles in multiple national and international societies, including the American Orthopedic Association, Cervical Spine Research Society and the North American Spine Society. In 2017, he received the Resident Teaching Award from the UMass Chan orthopedic residency program.
Stauff graduated magna cum laude from Denison University with a Bachelor of Science degree and earned his medical degree from Pennsylvania State Hershey College of Medicine.