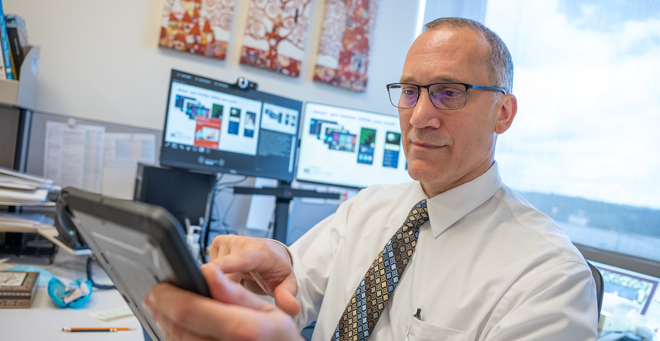 A new center led by UMass Chan Medical School aims to prevent suicide through evidence-based use of technology.
The nearly $17 million National Institute of Mental Health-funded Center for Accelerating Practices to End Suicide through Technology Translation (CAPES) includes a network of organizations working with UMass Chan, including UMass Memorial Health, UMass Lowell, UMass Amherst, Worcester Polytechnic Institute, Zero Suicide Institute and more than 100 other collaborating institutions.
The five-year grant is designed to jump-start broader work by the center. "The NIMH grant is really focused primarily on figuring out how to accelerate best practices into clinical care across a range of health care settings, including emergency departments, inpatient units and outpatient settings," said psychologist Edwin Boudreaux, PhD, professor of emergency medicine. Dr. Boudreaux co-directs CAPES with Catarina Kiefe, MD, PhD, the Melvin S. and Sandra L. Cutler Chair in Biomedical Research and professor of population & quantitative health sciences.
What's new, according to Boudreaux, is that CAPES will go beyond evaluating the effectiveness of technology-based interventions to focus on implementation, patient-centered care, business development and ethics.
"If you have something that already has research to support it, how do you get it into practice? And what's the best way to do that?" he asked.
CAPES will initially focus on four technology projects, starting with a signature project evaluating the Jaspr Health digital platform. Jaspr suicide-prevention software can be accessed on a tablet or PC by patients waiting for care in an emergency department, making therapeutic use of down time before a patient is seen for a psychiatric evaluation, according to Boudreaux.
"Jaspr is the patient-facing tool that helps the patient with developing coping strategies and gathers information that carries through to the electronic health record so that clinicians can see and reinforce it," Boudreaux said. Patients can download the Jaspr app to their smartphone and refer to their safety plan and tools after the visit.
Three other projects are considered exploratory. Computerized Adaptive Tests (CATs) applies complex calculations from large data sets to streamline primary care workflow integration to better identify and track mental health symptoms and suicide risk, and guide intervention delivery.
ADAPT (Automated, Data-driven, Adaptable and Transferable learning for suicide risk prediction), a second exploratory project, aims to explore artificial intelligence techniques to guide the transfer of existing suicide prediction models to other health care systems and clinical contexts.
The third exploratory project, LEMURS (Leveraging Early Mental Health Uncovering Risk for Suicide) integrates a smartphone-based mobile application, which uses data from college students' smartphones combined with voice analysis to screen for depression and suicidal ideation, with dashboards to assist college health centers with suicide risk screening, surveillance and mitigation. The project expands on collaborative work with researchers at WPI.
"It's what I call a 'phone biopsy,' in which smartphone data is analyzed for risk," said Boudreaux. "You also do a voice recording because there are algorithms that can help detect what you and I can't hear."
Boudreaux said researchers are "pretty confident we can make the prediction" about suicide risk from technology applications. "But the translation to us is solving all the 'what if' questions around if a person is depressed or suicidal. How is the system going to help us not only identify, but manage and track this person to make sure they get to the place where they need to be able to get care?"
A CAPES website is being developed and researchers plan to roll out the Jaspr project in November.