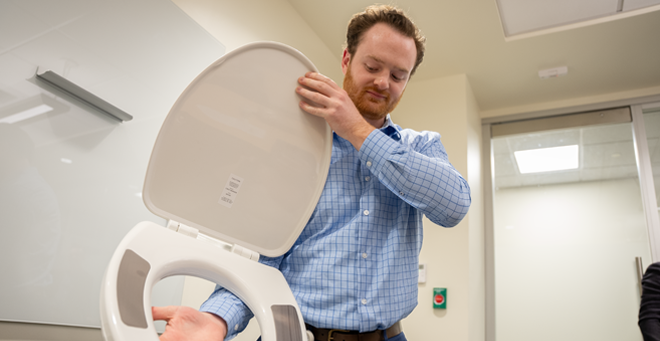 A new study led by researchers at UMass Chan Medical School's Program in Digital Medicine is enrolling participants to sit for science—literally—on a smart toilet seat that gathers physiological data.
The study, called COMMODE-seat, which stands for correlating outcomes with mobile monitoring using digital sensors in a seat, will test how a smart toilet seat can help patients with chronic diseases better manage their health. The toilet seat is made by Casana and called the Heart Seat.
Casana recently obtained clearance from the Food and Drug Administration for the sensor-embedded toilet seat to measure heart rate and oxygen saturation. The company plans to pursue subsequent filings, including systolic and diastolic blood pressure, according to news on its website.
"The hypothesis behind the Heart Seat is, if you can measure blood pressure and some of the other heart-related variables, then you can approximate cardiac output that traditionally requires an echocardiogram to capture," said principal investigator Apurv Soni, MD, PhD'21, assistant professor of medicine and co-director of the Program in Digital Medicine.
"This would be an exploratory study to identify which signals are disease-specific and highlight a need for upcoming health care usage," Dr. Soni said. "If we can accurately predict which patients are going to require an emergency room visit or hospitalization, then we can go from a reactive state of health care to more of a proactive state of health care, and for example, pair those patients with programs like Hospital at Home or reach out for more evaluation."
The research team expects to enroll 100 patients from the UMass Memorial Health system who have chronic diseases such as inflammatory bowel disease, diabetes, hypertension, chronic obstructive pulmonary disease or heart failure. Patients will be recruited from both historically heavy users of health care and more typical users.
Each patient will be able to participate for up to a year, completing surveys and using an app to track their symptoms and any medications.
According to Soni, patients won't have to use the smart seat exclusively during the study. "The basic premise of this kind of remote patient monitoring is even if it's not derived from exclusive use, like you would have with a Holter monitor that you put on your chest, for example, frequent use of the same methods over a longer period of time gives you better information than more detailed monitoring for only a small period of time."
Casana's co-founder and chief research officer, Dave Borkholder, PhD, added, "We couldn't ask for a better partner to explore improving vital signs monitoring in the home using this unique technology. Every finding brings us one step closer to enabling clinicians to provide better care."
The study is funded by UMass Chan, with support from Casana.

Related UMass Chan news:
Harnessing the power and promise of digital medicine