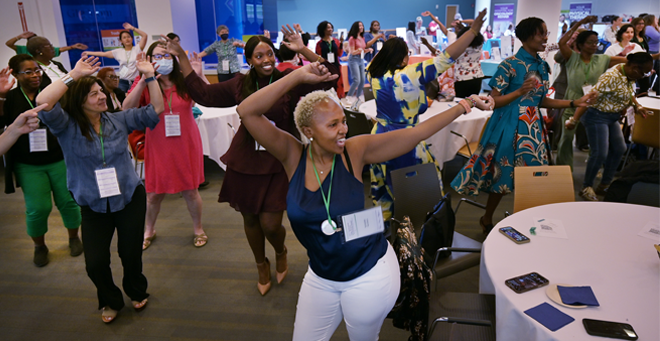 More than 200 women came together at UMass Chan Medical School on Saturday, June 17, to learn about community health resources, ask health providers questions and have a day of self-care.
"Self-care is not selfish," said Marlina Duncan, EdD, vice chancellor for diversity and inclusion and co-chair of the 2023 Multicultural Women's Health Summit, along with Jennifer Bradford, MD, assistant professor of family medicine & community health.
The free event, run by UMass Chan's Diversity and Inclusion Office in conjunction with the Central Massachusetts chapter of The Links, Incorporated, included information tables about nutrition, skin cancer prevention and breast health; blood glucose testing, eye and blood pressure screenings provided by UMass Chan Medical School students; and breakout sessions on topics that included diabetes, mental health and Latina wellness.
"This is just something that was really great that I wanted to do for myself, my health and my well-being," said Denise Roane, a Grafton resident attending the summit.
Jo Chan, who recently moved to Worcester from Singapore, came to learn about the health care system and available services. After attending a breakout session on aging and eye health, Chan joined a packed room to learn about the effects of menopause on the skin, hair and nails.
"I didn't expect to learn anything from those sessions until I realized everything is so relevant to me, even at 43," Chan said.
Julia Hall, a researcher and aspiring physician, attended sessions on the autism spectrum disorder in communities of color and breast cancer screening in women of color.
"I didn't know about how high-risk patients should alternate MRIs and mammograms every six months. I also didn't know that mammogram screening was free for everybody," Hall said.
The event concluded with a keynote address by Crista Johnson-Agbakwu, MD, professor of obstetrics & gynecology and population & quantitative health sciences, and executive director of the UMass Chan Collaborative in Health Equity. Dr. Johnson-Agbakwu described her new research about the intersecting relationships among gender, race, religion and migration status, which she called "quadruple jeopardy." She also spoke about Black maternity mortality rates and shared her experience with preeclampsia, a dangerous condition that can cause severe pregnancy complications or death. Johnson-Agbakwu called the diagnosis a career-defining moment that gave her a renewed purpose.
"As long as I have breath, I'm going to continue fighting this and continue to be an advocate for programs and initiatives," Johnson-Agbakwu said.