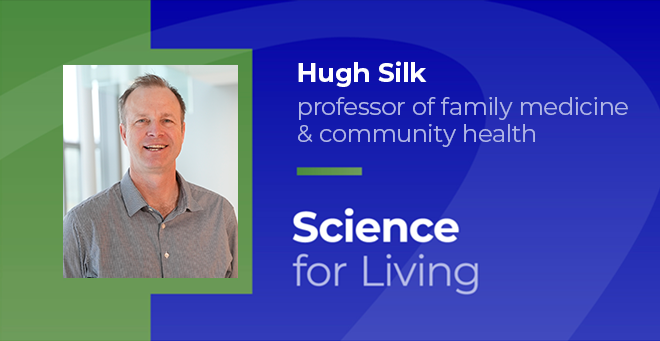 In the waning hours of 2022, Congress eliminated a requirement that health care providers who prescribe buprenorphine for opioid use disorder maintain an addition to their license, a major step that will dramatically improve access to treatment and may help to reduce stigma associated with the disease, according to Hugh Silk, MD, professor of family medicine & community health.
The Drug Enforcement Administration requirement known as a DATA-waiver, or X-waiver, had been around since 2000.
"For this one medication you needed a separate DEA license," said Dr. Silk. "So that just became a barrier for many providers, and then we're restricting care from patients."
Research published in JAMA Network Open in 2020 examined, in a study conducted by The Pew Charitable Trusts, Deerfield Management Co. and Rand Corp., the gaps underlying demand for and access to treatment. In 2018, more than 2 million Americans had opioid use disorder but only 26 percent received any kind of treatment.
This month, Rahul Gupta, MD, MPH, director of the White House's Office of National Drug Control Policy, told the New York Times that about 130,000 health providers had an X-waiver at the end of last year, when the rule was abolished. Now, he said, 2 million prescribers registered with the Drug Enforcement Administration can prescribe buprenorphine to opioid users.
Previously, to prescribe buprenorphine, known by the brand name Suboxone, prescribers had to undertake lengthy training and submit documentation to federal regulators to receive the special waiver license. The number of patients being treated with buprenorphine by a health care provider was also capped, a limitation that has now been removed.
Buprenorphine is an opioid partial agonist—in other words, a drug that binds to an opioid receptor and weakly activates it—that works by blocking the euphoric highs and withdrawal lows of stronger opiates.
"For people who have used an opioid substance, whether they started taking pills like Percocet, or whether they're taking heroin or fentanyl, those drugs bind tightly to receptors in the brain and cause euphoria. They will feel good for the short term, but then people have all kinds of side effects afterward; and they come back over and over again to get that high, that euphoria," Silk said.
"Buprenorphine binds to those receptors as well. Those receptors are satisfied, but the buprenorphine doesn't give them that high and their body isn't going into withdrawal."
Silk said the brand-name drug Suboxone contains buprenorphine combined with naloxone, also known as Narcan, as a backup safety mechanism. So, if a person tries to crush the pill or manipulate the film and inject or snort it to try to get a super dose and get high, the naloxone kicks in and blocks the opioid receptors.
With buprenorphine potentially available through every doctor's office in the United States, just as prescriptions for drugs such as insulin for diabetes or for heartburn medicine are, the stigma associated with opioid use disorder should be reduced somewhat, according to Silk.
"Sometimes we get this vision that people who have substance use issues are a certain type of person. It's just not true," he said. "I have patients who have full-time jobs, houses and families, and I have patients who are living in the street. I think we have to acknowledge that there is a disease element to this. We don't stigmatize people for getting hypertension or for getting a rash. I'm not sure why we would do that for people who developed substance use disorder."
Medical students at UMass Chan and other medical schools in Massachusetts are already being taught about chronic pain, opioid prescriptions and opioid use disorder treatment, following an initiative of former Gov. Charlie Baker. Under that program, students received training to be eligible for the DEA X-waiver.
"Now there won't be an extra license, but they'll have the skills. So, the day they graduate and have their MDs, they'll be able to prescribe this," Silk said.
Silk stressed that with opioid overdose deaths still high in Massachusetts—an estimated 2,301 deaths in 2021, according to the state Department of Public Health—flexibility in delivering treatment is critically important.
Science for Living features the perspectives of UMass Chan Medical School experts on the research behind health news headlines. If you have ideas for topics you'd like to see explored, please send them to susan.spencer1@umassmed.edu.