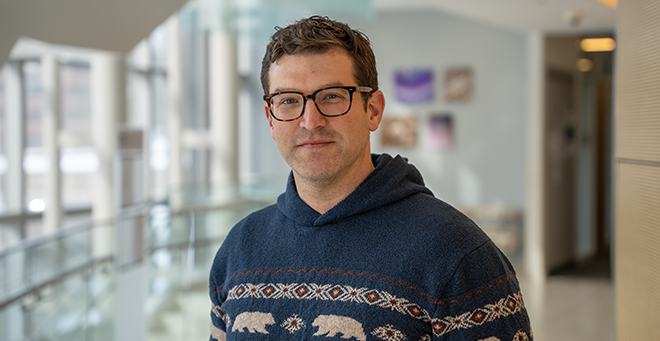 Ryan W. Logan, PhD, professor of psychiatry, received the inaugural Helping to End Addiction Long-Term Initiative, or NIH HEAL Initiative, Director's Trailblazer Award presented at the fourth annual NIH HEAL Initiative Investigator Meeting in February. Dr. Logan joined the UMass Chan Medical School faculty in January, coming from Boston University, and was one of five recipients nationwide to receive the award.
Logan's HEAL-funded project focused on specific cell types in the brain involved in opioid use disorder, opioid dependence and withdrawal. His lab has been investigating novel mechanisms in the brain that underlie both vulnerability to opioid use disorder and the impact of chronic opioid use on sleep and circadian rhythm-related pathways in the brain that could be involved in craving and relapse.
His research team approached the investigation from multiple angles under two grants. The first, a HEAL-funded grant, studied different genetics, molecular biology tools and complex behavior in mice. The second, funded by the National Institute on Drug Abuse, looked at molecular rhythm changes in the human brain using postmortem brains from people with opioid use disorder.
"I think the cross-species integration driven by both human and preclinical models of opioid use and new computational tools from those two projects reflects on the innovation and cutting-edge research of our laboratory and collaborators," said Logan. "We're looking at changes in human brain that are associated with opioid use disorder and other comorbid medical and psychiatric disorders, and then using that information from the human brain to bring to our animal models to understand the impact of chronic opioid use on brain function and to identify new mechanisms that might be related to the disorder."
This approach will inform further experiments that may help figure out new pathways for therapeutics and interventions in pharmacology, he said.
Logan said the relationship between circadian rhythms and opioid use is complex. "These chronic sleep and circadian disruptions ultimately increase the vulnerability to entry points into substance use such as altered decision making, impulsivity, arousal changes, among others. On the other side, people that have been chronically using substances for months or years exhibit sleep and circadian disruptions that can persist during periods of abstinence. Now poor sleep, heightened arousal and agitation are common during withdrawal—and these are likely predictors of relapse."
One of Logan's next research challenges is to study whether a pharmacological agent can be used as an adjunctive therapy that targets sleep and circadian rhythms with buprenorphine or methadone—and what the brain mechanisms are underlying that—to improve treatment outcome.
The NIH HEAL Initiative Director's Trailblazer Award recognizes HEAL-funded researchers in the early to middle stages of their careers, across all disciplines, who are applying innovative approaches or creativity in their research or are expanding HEAL research into addressing the pain and opioid crisis in new directions.