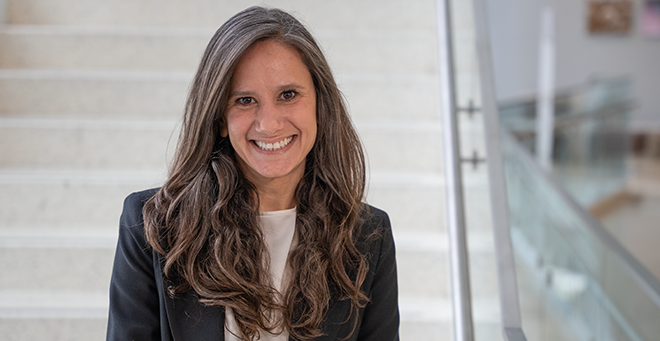 UMass Chan Medical School has licensed a siRNA technology for dermatological diseases developed by Julia Alterman, PhD, assistant professor of RNA therapeutics, to Aldena Therapeutics for clinical development. The siRNA-based therapeutics have the potential to help alleviate a host of skin diseases, including alopecia areata, atopic dermatitis and vitiligo through local treatment such as intradermal injection or topical, transepidermal applications. Aldena Therapeutics is a Boston, London and Lausanne, Switzerland, based biotech founded in 2021 and aiming to deliver advanced, long lasting treatments for dermatological diseases.
"We are thrilled to be partnering with Aldena to bring siRNA-based therapies to patients suffering from a range of dermatological disease," said Dr. Alterman. "UMass Chan has a deep understanding of and experience in developing stable siRNA chemistries. Aldena's singular focus on dermatological innovation provides a path forward for our tailored siRNA constructs designed for robust skin delivery."
The license agreement is the result of an ongoing sponsored research agreement between the institutions to develop siRNA constructs for a variety of molecular targets covering a broad range of dermatological indications.
"We are very pleased as our collaboration with the world-class scientists at UMass Chan Medical School has given Aldena access to the most advanced siRNA technology," said Thibaud Portal, PhD, CEO of Aldena. "This first license agreement sanctions the success of our collaborative work; it is a major milestone for Aldena as we continue building our diverse pipeline of innovative dermatological products."
Carine Blanchard, PhD, chief scientific officer of Aldena added, "Pairing advanced siRNA constructs with the right delivery technologies will enable us to meet our purpose of providing dermatology patients with targeted, potent and long-lasting lesional treatments."
The Aldena partnership was facilitated by Bridge Innovation and Business Development at UMass Chan Medical School.