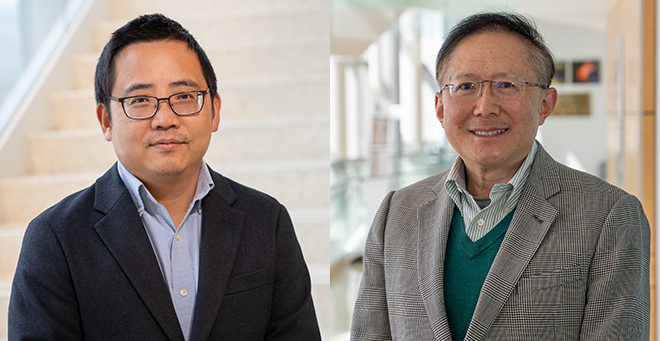 UMass Chan Medical School has signed a three-year sponsored research agreement with NeuShen Therapeutics Inc. to investigate a gene therapy treatment for amyotrophic lateral sclerosis, a rare neurological disease. Based in Shanghai and Boston, NeuShen is focused on developing innovative treatments for central nervous system disorders using adeno-associated virus-based gene therapy and small molecule delivery.
Jun Xie, PhD, associate professor of microbiology & physiological systems, will serve as principal investigator of the program. Co-leading the program is Guangping Gao, PhD, the Penelope Booth Rockwell Professor in Biomedical Research, professor of microbiology & physiological systems, director of the Horae Gene Therapy Center and co-director of the Li Weibo Institute for Rare Diseases Research at UMass Chan.
Dr. Gao is an internationally recognized gene therapy researcher who has played a key role in discovering and characterizing a new family of AAV serotypes for central nervous system disorders.
"UMass Chan and NeuShen will work together to tackle ALS, which represents an unmet medical need," said Gao. "This work could serve as an entry point to exploring the application of gene therapy for broader central nervous system disorders. The extensive experience of the NeuShen team in the development of neurotherapeutics will be critical to this collaboration."
"We are thrilled to enter into this research agreement with UMass Chan, which has been leading the world in AAV research, as we step into gene therapy research for central nervous system disorders," said Joan Shen, MD, PhD, founder and chief executive officer of NeuShen. "ALS is the most common type of motor neuron diseases with no known cure. The average survival from onset to death is two to four years and currently only six drugs are approved by the FDA and have limited benefits. We believe that the best therapy for this devastating disease has not yet been discovered, and we look forward to working with Dr. Xie, Dr. Gao and their team on their innovative research, as well as the new treatments that may arise from it."
The NeuShen partnership was facilitated by Bridge Innovation and Business Development at UMass Chan.
Related UMass Chan news stories:
UMass Chan licenses rights to spinal muscular atrophy gene therapy program to CANbridge Pharmaceuticals
Novel therapeutic, based on UMMS microbiome discoveries and licensed by Bacainn Therapeutics, targets ulcerative colitis
UMass Medical School licenses gene therapy approach for Leber congenital amaurosis
UMMS licenses gene therapies for Tay-Sachs and similar diseases to Axovant