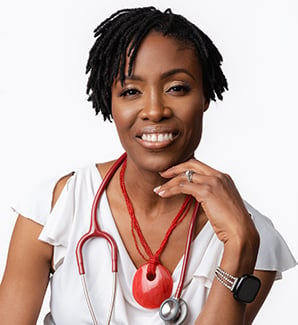 Crista Johnson-Agbakwu, MD, has been appointed the inaugural executive director of the new UMass Chan Medical School Collaborative in Health Equity. Dr. Johnson-Agbakwu, professor of obstetrics & gynecology and population & quantitative health sciences, is an accomplished physician who has focused her career on reducing the disparities between social determinants of health and health care.
"Dr. Johnson-Agbakwu has a long record of service to underserved and historically marginalized communities, and in researching and developing innovative strategies to improve health equity among our most vulnerable populations," said Chancellor Michael F. Collins. "We have admired her groundbreaking work and are proud to have her launch our new Collaborative in Health Equity, a groundbreaking and important initiative that arose from the IMPACT 2025 strategic plan that we are enthusiastic to see come to fruition."
"Dr. Johnson-Agbakwu will help to unite and grow our varied initiatives to improve health equity, including those in clinical care, research, education and community engagement," said Terence R. Flotte, MD, the Celia and Isaac Haidak Professor, executive deputy chancellor, provost and dean of the T.H. Chan School of Medicine. "She will also nurture the recruitment, retention and promotion of underrepresented minorities in medicine across trainees, faculty, staff and leadership."
Johnson-Agbakwu's passion, particularly for women's health, has made her a leading practitioner and thought leader on global health issues such as refugee women's health, gender-based violence and female genital mutilation/cutting. Her research focuses on investigating strategies to advance sexual and reproductive health equity for migrant women of color, with the aim of improving health care access and utilization and reproductive health education, counseling and community engagement, as well as enhancing health care provider cultural competency.
Johnson-Agbakwu comes to UMass Chan from the Valleywise Health Medical Center in Phoenix, where she was the founding director of the Refugee Women's Health Clinic and director of the Office of Refugee Health in the Southwest Interdisciplinary Research Center at Arizona State University. The Refugee Women's Health Center was the first of its kind in Arizona and is nationally recognized as an innovative best-practice model of care. Johnson-Agbakwu spearheaded this unique, patient-centered medical home for migrant families. Under her direction, refugee health services at Valleywise Health grew exponentially, to include care for more than 16,000 patients across women's health, pediatrics, internal and family medicine, hailing from 68 countries across sub-Saharan Africa, South-East Asia, and the Middle East.
In her new role, Johnson-Agbakwu will help coalesce, energize and enhance health equity research and service; community-engaged research and service; service-learning; and global health research and service efforts that are dispersed across UMass Chan. The work will center on the intersection of service and research, often through equitable community partnerships. The Collaborative in Health Equity will include a community investment fund to support local and global activities. One of the key activities will be a competitive grant program that funds pilot and full projects for Collaborative in Health Equity members.
Johnson-Agbakwu has a bachelor's degree in biology from John Hopkins University, earned her medical degree from Weill Cornell Medical College, and completed her residency in obstetrics and gynecology at the George Washington University Medical Center. She completed fellowships in female sexual medicine at the University of California, Los Angeles, and the Robert Wood Johnson Foundation Clinical Scholars Program at the University of Michigan, where she also earned a Master of Science in health and health care research.
She joined the UMass Chan community on Feb.1.