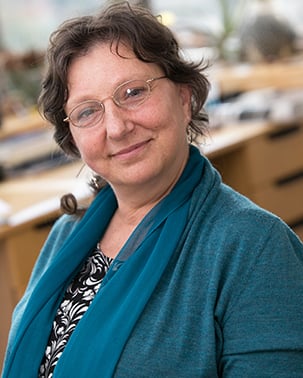 Vivian Budnik, PhD, the Worcester Foundation for Biomedical Research Chair I, and chair and professor of neurobiology, has been elected as a fellow of the American Association for the Advancement of Science.
Dr. Budnik was elected for her contributions to the understanding of the mechanisms of synaptic signaling, which may allow cells to communicate with each other and provoke plastic responses. She was also recognized for her work training and mentoring colleagues.
Budnik's research has led to important discoveries in genetics that are accelerating knowledge of synapse development and plasticity and is contributing significantly to the understanding of neurological disorders, such as dystonia, muscular dystrophies and accelerated aging.
Budnik joined UMass Chan Medical School in 2003 and was named chair of neurobiology in 2015. She has led a multidisciplinary research hub of scientists combining cell biological, physiological and behavioral analyses to understand the complexity of brain development and function and address fundamental problems in neurobiology. Junior faculty in the department have credited her with helping many of them receive R01 funding from the National Institutes of Health on their first submission.
In 2015, she also became a fellow of the Hedwig van Ameringen Executive Leadership in Academic Medicine Program for Women at the Drexel University College of Medicine. Budnik's ELAM Institutional Action Project focused on formalizing a sustainable mentoring program in her department to foster a scientific environment where, in addition to excellence in science, the goal is also to create the synergism, mentoring and support a diverse workforce requires for success. In 2022, Budnik received the Chancellor's Award for Excellence in Mentoring.
She was previously served as a member-at-large for the neuroscience section of the AAAS for four annual terms.
AAAS is the world's largest general scientific society and publisher of the journal Science. AAAS was founded in 1848 and includes nearly 250 affiliated societies and academies of science, serving 10 million individuals.
Budnik is among 506 scientists, engineers and innovators elected this year. New fellows will be recognized this spring in Washington, D.C. The new class will also be featured in the AAAS news and notes section of Science magazine in February. Budnik joins more than 12 other AAAS fellows on the UMass Chan faculty.
Related UMass Chan news stories:
Educational Recognition Awards and Last Lecture celebrate faculty excellence at UMass Chan
Vivian Budnik named AAAS neuroscience member-at-large
Vivian Budnik appointed chair of neurobiology