UMass Chan resident-led 'Day in the Life of a Surgeon' event promotes diversity in surgery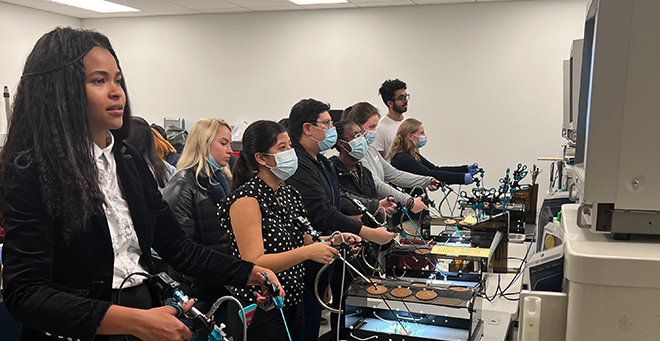 More than 60 college students from across Massachusetts attended "A Day in the Life of a Surgeon" event last month, organized by two UMass Chan Medical School surgery residents to give students underrepresented in medicine the opportunity to learn about the surgical field, gain exposure to specialties and seek mentorship and guidance in pursuing this field.
Olajumoke Megafu, MD, a second-year surgery resident, and Emily Fan, MD, chief resident of vascular surgery, belong to the Diversity, Equity and Inclusion Task Force in the Department of Surgery and are focused on promoting diversity in their field. The task force is working to eliminate discriminatory practices and proactively implement changes that will promote a diverse, equitable, and inclusive working and learning environment through recruitment, mentorship, outreach, and research.
The event, held on Nov. 11, kicked off with a keynote address from transplant surgeon Paulo Martins, MD, PhD, who told students to "never settle, turn your dreams into reality regardless of whatever setbacks you may encounter, and turn your stumbling blocks into stepping stones."
Over the course of the day, students listened to a panel of specialists in orthopedic surgery, urology, obstetrics/gynecology, general surgery, pediatric surgery, neurosurgery and vascular surgery; observed a livestream of an open abdominal aortic aneurysm repair and a robotic inguinal hernia repair; discussed the cases with attending surgeons; toured the Medical School and surgical facilities; and got hands-on experience in the simulation lab. Breakout sessions with medical students on MCAT prep, alternative paths to medical school, strengthening the med school applications and financing medical school were held at the conclusion of the event.
Drs. Megafu and Fan said the event served as a reminder of how far they have come and the importance of the mentorship and exposure that they received along their journeys to becoming physicians. They hope to continue to do work that inspires underrepresented groups to be interested in surgery and create opportunities to facilitate that process in students' lives today in order to create a more diverse group of physicians that represents the populations they serve.