UMass Chan researcher Anastasia Khvorova named 2022 National Academy of Inventors Fellow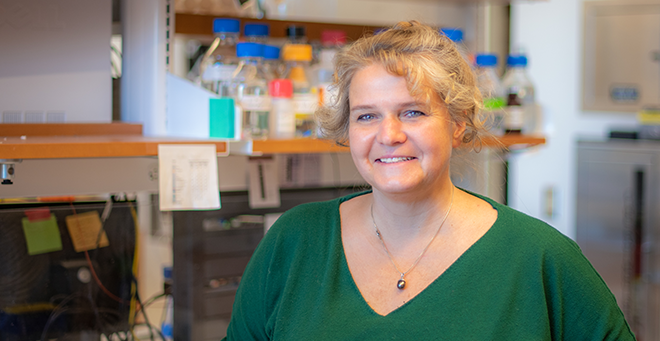 Anastasia Khvorova, PhD, the Remondi Family Chair in Biomedical Research, professor of RNA therapeutics, and a leader in transformative discoveries in fundamental chemical biology, was named a 2022 fellow of the National Academy of Inventors.
The National Academy of Inventors Fellows Selection Committee selected Dr. Khvorova for her " . . . highly prolific spirit of innovation in creating or facilitating outstanding inventions that have made a tangible impact on the quality of life, economic development and welfare of society."
Khvorova is the seventh UMass Chan Medical School faculty member to be elected a National Academy of Inventors Fellow since the organization's inaugural class in 2012 and the first since Guangping Gao, PhD, the Penelope Booth Rockwell Chair in Biomedical Research, professor of microbiology & physiological systems, founding director of the Horae Gene Therapy Center & Vector Core and co-director of Li Weibo Institute for Rare Diseases Research, was elected in 2017.
"It's unexpected, but highly appreciated," said Khvorova about being elected a Fellow. "I think it's also representative of the enhancing role of UMass Chan Medical School in the medical community. There is more and more faculty research performed at UMass Chan being recognized as important for improving the economic growth model in the world of medicine."
Khvorova is a co-founder of Atalanta Therapeutics, a biotechnology company launched at UMass Chan in 2018 that is currently working on disease-modifying therapeutics for treatment of a wide range of neurodegenerative disorders. She is an inventor with more than 200 patents and more than 300 patent applications.
This year, the National Academy of Inventors selected 169 academic inventors to be National Academy of Inventors Fellows. The 2022 Fellow class hails from 110 research universities and governmental and nonprofit research institutes worldwide. They collectively hold more than 5,000 issued U.S. patents.
NAI President Paul R. Sanberg, PhD, DSc, said the 2022 class "represents a truly outstanding caliber of innovators," adding that each individual has made a significant impact through their work and is highly-regarded in their respective field.
"The breadth and scope of their inventions is truly staggering. I am excited to see their creativity continue to define a new era of science and technology in the global innovation ecosystem," Dr. Sanberg said.
Khvorova and the 2022 class of fellows will be inducted at the annual meeting of the National Academy of Inventors in Washington, D.C., in June.
Related UMass Chan news stories:
Guangping Pao named 2017 fellow of the National Academy of Inventors
Phillip D. Zamore, PhD, named 2014 Fellow of the National Academy of Inventors