Stuff-a-cruiser event at UMass Chan to support Why Me, Veterans Inc. on Nov. 15
Thanksgiving drive hosted by UMass Chan Department of Public Safety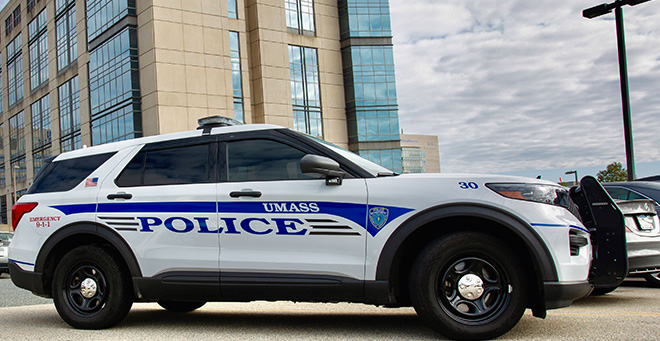 A friendly competition to fill four police cruisers at UMass Chan Medical School with nonperishable food will help a pair of Worcester nonprofit organizations support families ahead of the Thanksgiving holiday.
The UMass Chan stuff-a-cruiser event will take place on Tuesday, Nov. 15, from 7 a.m. to 7 p.m. in front of the Albert Sherman Center on the Worcester campus.
Donations of nonperishable food items will be collected in patrol cars from the UMass Chan Department of Public Safety, Worcester Police Department, Shrewsbury Police and the Massachusetts State Police. The donations will be distributed to Why Me & Sherry's House and Veterans Inc. in Worcester.
Faculty, staff and students from the T.H. Chan School of Medicine, Tan Chingfen Graduate School of Nursing and Morningside Graduate School of Biomedical Sciences will comprise four competing teams and each team will be assigned a patrol car to fill.
"It's about engaging the UMass Chan community and getting everyone vested in giving back to the community beyond campus," said UMass Chan public safety deputy chief Nancy O'Loughlin.
The police vehicles will be weighed at the start of the competition and again at the end of the day to determine the winner. A pizza party will be thrown for the team that collects the highest weight of nonperishable items.
"We hope an event like this encourages students and staff to come out and donate and compete and have some fun," said UMass Chan public safety Sgt. Brett Rand. "It will be a great opportunity to support organizations like Why Me and Veterans Inc. during a time when they need support the most."
During the event, the UMass Chan campus will be visited by special guests, including the Worcester Police Department's mounted unit, the robotic bomb squad dog from the Massachusetts State Police and comfort dogs from area police departments.
Related UMass Chan news stories:
New deputy chief aims to build foundation for public safety department's future success
UMass Medical School police collect gifts for children in need