New deputy chief aims to build foundation for public safety department's future success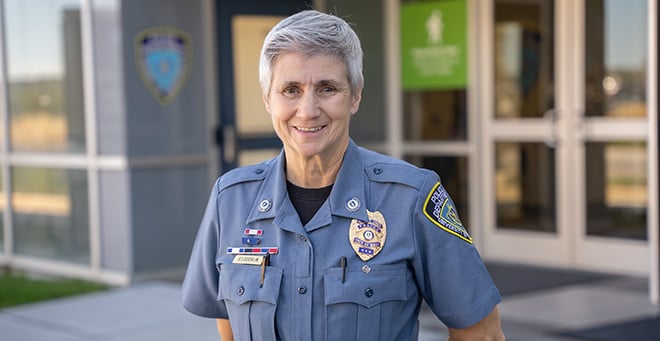 The foundation of Nancy O'Loughlin's nearly 40-year career in law enforcement is based on a simple principle: Treat people the way you want to be treated.
"When people are visiting campus or going to the hospital, you treat them as you would want your mother or your father or another family member to be treated. And that way you very rarely can go wrong," said O'Loughlin.
O'Loughlin, who was named deputy chief of the UMass Chan Medical School Public Safety Department in September, joined UMass Chan in 2020 as a sergeant in patrol and was promoted to captain in 2021.
She spent 30 years with the MBTA police, overseeing the K-9 unit, detective unit, patrol operations and the anti-crime unit. She ended her MBTA career as commander of special investigations in 2012. Before coming to UMass Chan, she spent several years as a bicycle officer in the patrol division at Boston University.
Each day at UMass Chan is different, according to O'Loughlin, who said some shifts receive only a handful of calls, where on others, the calls don't stop, mainly depending on how busy UMass Memorial Medical Center is. As deputy chief, O'Loughlin's objectives are to keep everyone safe, provide the right amount of service and make sure all calls are handled professionally with a positive outcome.
O'Loughlin compared working at UMass Chan to her time with the MBTA in terms of community policing, in that there is a set population of people on campus every day in addition to a large population of patients and visitors who come and go.
"You must be able to transition and adapt very quickly. The officers who work here are very, very good with their people skills, with de-escalation, and can relate and converse with a wide population," O'Loughlin said.
In her duties, O'Loughlin responds to calls on campus with officers to be an extra set of hands or address any issues that may arise. She credits her hands-on approach to what she's learned and how she's persevered as a woman in policing.
"I faced an uphill battle my whole career. I've developed a lot of mechanisms to adapt and make myself stand out a little bit more than other people," said O'Loughlin. "I try to incorporate everything and then I try to pass it on to the younger officers so that they have a foundation that they can jump off from."
Related UMass Chan news stories:
C. Leon Pierce sworn in as head of public safety at UMass Medical School
UMMS Police Chief Jack Luippold retiring; Clanford Pierce appointed successor