Mary Munson named assistant vice provost of health equity at UMass Chan
Since 2001, Dr. Munson has been leading force in championing representation at the Medical School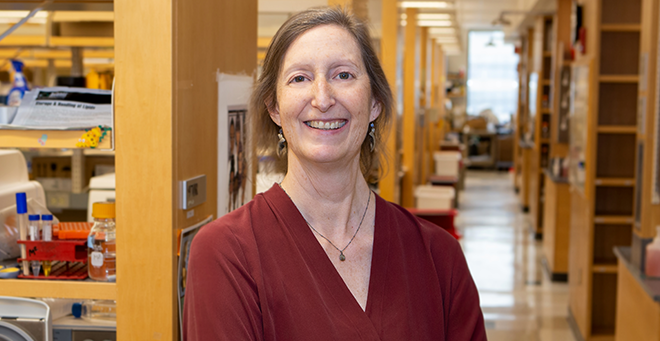 Mary Munson, PhD, professor of biochemistry & molecular biotechnology, an accomplished scientist, mentor and educator, has been appointed assistant vice provost for health equity. In her new role, Dr. Munson will support the mission of the Office of Health Equity under the direction of Milagros Rosal, PhD, the Imoigele P. Aisiku, MD'97 Chair in Health Equity and Diversity and vice provost for health equity at UMass Chan Medical School.
"Since joining the institution in 2001, Dr. Munson has been a leading force in championing representation at the Medical School, making contributions to the institution's faculty diversity, equity and inclusion efforts, especially as it relates to diverse faculty recruitment, career advancement and retention," said Terence R. Flotte, MD, the Celia and Isaac Haidak Professor, executive deputy chancellor, provost and dean of the T.H. Chan School of Medicine, in making the announcement.
As assistant vice provost, she will continue to work as primary co-lead for the Investigator Career Advancement Program and supervisor of the iCAP staff, her leadership of the Faculty Fostering Inclusive Excellence and her numerous contributions to the development of pipelines for diverse faculty recruitment.
Among her many contributions to the Medical School, Munson co-founded and is in charge of the cross-departmental Faculty Fostering Inclusive Excellence Community, which engages and educates faculty across basic science departments to promote diversity, equity and inclusion through faculty and student mentoring, faculty recruiting and graduate admissions in the Morningside Graduate School of Biomedical Sciences. She is also co-investigator on the NIH First Cohort grant application, which works to foster career advancement of faculty from underrepresented minority groups in the biomedical sciences. She was co-lead of the pilot versions of the iCAP.
She is the faculty lead for the UMass Chan Voices in Science Seminar Series, which identifies, highlights and hosts top sciences and postdoctoral researchers from underrepresented groups; faculty advisor for the UMass Chan Chapter of the Society for Advancement of Chicanos/Hispanics and Native Americans in Science; co-founder of the local Worcester chapter of the Association for Women in Science; and co-organizer and chair of the Diversity Action Committee in the Department of Biochemistry & Molecular Biotechnology.
Earlier this month, Munson was one of 22 scientists named a fellow of the American Society for Cell Biology for 2022 in recognition of her lifetime achievement in advancing cell biology, meritorious efforts to advance cell biology and its applications and for her service to the society.
She is the co-chair of the American Society for Cell Biology's Women in Cell Biology committee and a co-investigator of its AMP MOSAIC program. She recently became a trained facilitator for "Entering Mentoring," a program sponsored by the Center for the Improvement of Mentored Experiences in Research to enable strong and supportive scientific mentors.
An expert in the mechanistic basis for regulation of spatial and temporal membrane trafficking, Munson joined UMass Chan after completing her postdoctoral fellowship in molecular biology at Princeton University, where she was awarded American Heart Association and National Institutes of Health fellowships. She was a double major in chemistry and biology at Washington University (St. Louis) and received her PhD from Yale University in molecular biophysics and biochemistry. In 2015, Munson was awarded the inaugural Bassick Family Worcester Foundation Award.
Related UMass Chan news stories:
Mary Munson elected fellow of the American Society for Cell Biology
At MLK tribute, Mary Munson recognized for commitment to diversity and inclusion in science field
UMMS researcher co-directs project to enhance diversity in biomedical sciences workforce.