Hispanic Heritage Month speaker highlights how work, migration, gender affect health of immigrant Latinas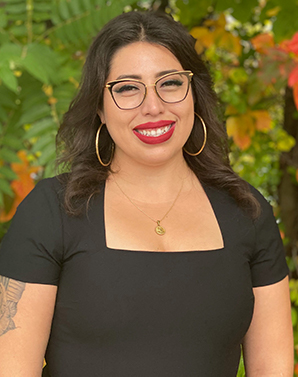 Ashley Gomez, PhD, MPH, assistant professor of entrepreneurship at the University of Pittsburgh, served as UMass Chan Medical School's keynote speaker at an event to conclude the celebration of Hispanic Heritage Month.
In her talk, "Mujeres Luchadoras: Labor and its impact on immigrant Latina health," Dr. Gomez explored the relationship between work, migration, gender and health among the Latina population in the United States.
Gomez reported that 18.7 percent of the U.S. population is Latine, of which 5.9 percent are immigrants and 2.5 percent are undocumented. Latine refers to the Latino population at large; Latina refers to women.
"I bring this up for two reasons," Gomez said. "One, folks overestimate the number of Latinas who are immigrant and/or undocumented and because we are also driving the U.S. labor force growth. "
Gomez called on listeners to consider social determinants of health such as work as a key contributor to health disparities.
"Experiences differ not only on the basis of race and ethnicity, but by gender and migration status as well," she said, explaining that within the Latine population, Latinas are the most affected by low wage jobs. Immigrant Latinas are the lowest earning group compared to all other groups by race, ethnicity and gender.
This was further explored in her research with immigrant Latinas designated as essential workers during the height of COVID-19. In her research, Gomez noted that, "Immigrant Latinas described their labor as providing economic value to the convenience of clients and employers. But as compensation for their labor, immigrant Latinas themselves were treated as disposable, highlighted by their poor work conditions, and lack of social and worker protections. This led to poor physical and mental health both directly and indirectly."
Her analysis revealed that commodification, in which people are only valued for what they can produce, is the common denominator in the connection between migration, labor, health and various social determinants of health and affects immigrant Latinas both inside and outside the workplace. This is best seen in the way health disparities are exacerbated by lack of access to benefits, flexible work schedules, paid leave, and worker protections; and low wages, she said.
Gomez said she hopes that these shared experiences lead to proactive approaches against systems of privilege and oppression, and she called for an intersectional approach.
"This framework allows us to explore the relationship between work and health among people who share multiple social identities that intersect at the individual," Gomez said.
In his introductory remarks to the virtual audience, Chancellor Michael F. Collins said, "We recognize and reaffirm the Latinx communities' rich, diverse, vibrant, foundational and enduring contributions to our nation; to our shared values; to our traditions and culture; and to our success—past, present, and future."
"While we are moving in the right direction, I think all of us recognize there's still much more work that needs to be done," Chancellor Collins said. "We're committed to seeing it through and I'm so encouraged by the consistent and continual discussion that we have underway."