UMass Chan raises LGBT pride flag on campus for September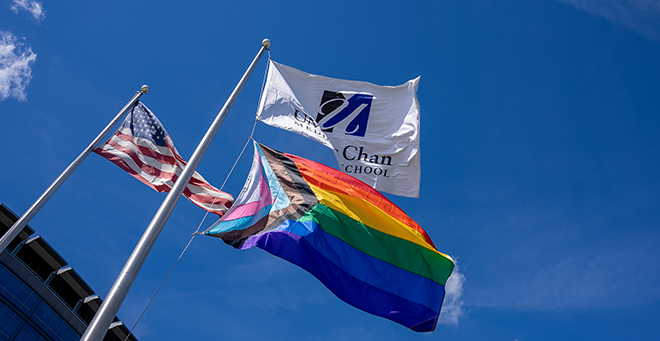 As UMass Chan Medical School kicks off the 2022 academic year, the pride flag has been raised on the campus green, welcoming all to the Worcester campus.
Through the efforts of the Diversity and Inclusion Office under the leadership of Marlina Duncan, EdD, vice chancellor for diversity and inclusion, and the support of Chancellor Michael F. Collins, the pride flag was raised on Sept. 1. It will fly every September in alignment with Worcester's monthlong pride celebration.
"This sends a clear message of unity not just to our employees and the campus visitors, but it sends the message to our community that we see you and we are you," said Jules Trobaugh, EdD, diversity manager at UMass Chan, who previously served on Pride Worcester's committee.
The 2022 Pride Worcester Festival takes place on Saturday, Sept. 10, in Worcester's downtown business district. Other pride events takes place throughout September across the greater Worcester area. UMass Chan and UMass Memorial Health are both among the sponsors of this year's pride events.
"Pride celebrations are needed because we celebrate overcoming adversity, we celebrate our resilience, but also pride celebrates each other as a community," Dr. Trobaugh said.