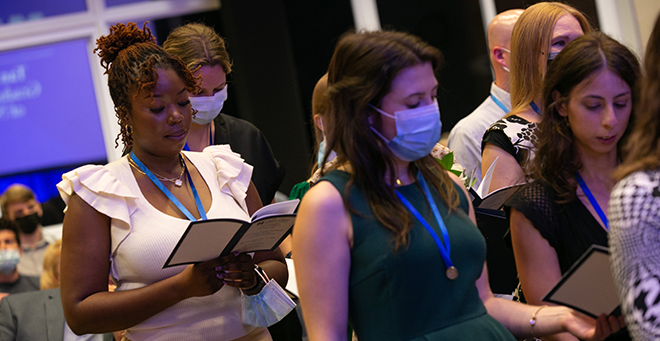 The Tan Chingfen Graduate School of Nursing at UMass Chan Medical School welcomed 43 nurses from backgrounds as varied as marketing, ballet and legal services at its annual Graduate Entry Pathway Pinning Ceremony on Monday, Sept. 12. The ceremony signifies the students' successful completion of educational credentials to qualify as registered nurses. Further years of study lead to a Doctor of Nursing Practice or PhD in nursing degrees.
"As nurses, we are most privileged to be allowed into the most intimate periods of our patients' lives—when they are most vulnerable," said Joan Vitello-Cicciu, PhD, the Donna M. and Robert J. Manning Chair in Nursing, dean of the Tan Chingfen Graduate School of Nursing and professor of nursing, "My wish for you is to take seriously this covenant with your patients as they share their lived experiences and instill in you many important values that will shape the nurse you will become."
Akwasi A. Duah, PhD, RN, assistant professor of nursing and director of the Graduate Entry Pathway Program, acknowledged that the GEP program attracts adults with varied work experiences, advanced degrees and degrees other than nursing, students like Melanie Ostiguy, a trained ballerina who aspires to be an ICU nurse.
"When I started going back to school, my dance students found it cool. The kids that I teach were impressed that I was doing both dance and nursing. They thought, 'I can do that too. I want to go to school to be a scientist, and I'm going to dance,'" Ostiguy said.
Working as a legal assistant prepared newly pinned nurse Ama Agyei for a different challenge.
"As a nurse, being an effective communicator to patients, families, health care providers and other colleagues is invaluable," Agyei said.
Class speaker Robin Young, MSW, a social worker, addressed her fellow classmates by admitting that the GEP program is "not for the faint of heart."
"This was work," Young said. "We all had to work harder than we've ever imagined. We began as a room full of strangers last August, but we all shared one commonality: We all wanted to become nurses."
Five GEP students earned honors for exceptional achievements: Joseph Tulip received the Award for Academic Excellence; Dominica Boucher received the Award for Clinical Excellence; Amanda Ford received the Spirit of Nursing Award; Monica Wiant took home the Award for Community Engagement; and Young accepted the Student Daisy Award.
Tracy Haycock of Newton-Wellesley Hospital was given the Outstanding Preceptor Award and the Leominster location of Fallon Health's Program of All-Inclusive Care for the Elderly, Summit ElderCare, was recognized as Outstanding Clinical Partner.
Proceedings concluded with newly pinned Raj Patel leading the class in a recitation of the Tan Chingfen Graduate School of Nursing pledge. The full ceremony can be viewed on YouTube.
Graduate Entry Pathway Pinning 2022
Ama Agyei
Carina Ashkar
Jeannece Batista
Dominica Boucher
Jennifer Bugos
Marley Buonacore
Alicia Cove
Rachelly De La Cruz
Amanda Ford
Victoria Galvin
Emma Glozman
Janet Haas
Madeline Hayes
Nava Hosseinnezhad Bahramjerdi
Jennifer Konjoian
Ian Lane
Fernelle Leandre
Anne Lee
Olga Markushova
Alyssa Menendez
Sonya Meraz
Eileen Monagle
Emily Nolan
Michelle Oliveri
Audrey O'Neill
Melanie Ostiguy
Colleen Packard
Raj Patel
Erika Powell-Burson
Anupa Prajapati
Basirat Quadry
Sarang Raj
Jillian Reid
Connor Saleeba
Shelby Shaw
Rebecca Smith
Rachel Stroh
Anita Tran
Joseph Tulip
Sophia Webb
Monica Wiant
Jaime Yates
Robin Young
Related UMass Chan news stories:
Family tragedy solidifies diabetes researcher's decision to earn nursing degree
Convocation week Sept. 12-16 celebrates students, faculty at start of academic year
UMass Chan launches new academic year with first-ever joint orientation for all three schools