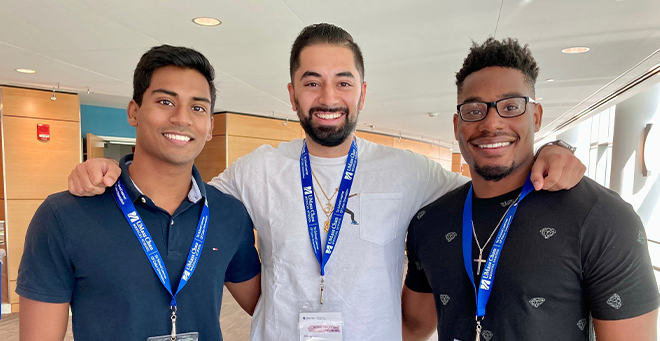 Looking from the podium into an auditorium filled with people of different colors and gender identities, MD/PhD candidate and UMass student trustee Bethany Berry said, "Look at all of you that are changing the face of medicine and research."
Berry was one of the speakers leading off UMass Chan's second annual orientation for learners of color among the three graduate schools, held Aug. 18 in the Albert Sherman Center. This year, 172 students registered for the program, a big increase from the approximately 70 who signed up last year.
"When you come from backgrounds that are not mainstream, you often feel that you are not enough," said Berry. She assured the group that although being the first among their family or community to enter the field of medicine, nursing or science research may seem daunting, it also presented an opportunity and UMass Chan was there to support them. "You are enough," she said.
The day-long orientation included workshops and speakers on topics ranging from mental health to finding mentors, from financial literacy to "power mapping" students' first year.
Ché Anderson, assistant vice chancellor for community and government relations, highlighted life in Worcester as a person of color, pointing out such features as the city's wide-ranging music scene from the Palladium to Mechanics Hall to Off The Rails ("Nashville of the North"); LGBTQ-friendly nightclubs; stores such as That's Entertainment that cater to "nerd culture;" volunteer opportunities; parks and trails; and insider tips on restaurants and barbershops.
"The goal is to center the margin, so for those who feel as though they don't fit in or maybe don't belong here at UMass Chan, to really launch them in a way that they can thrive, that they know that they have each other, and that they have resources, faculty and staff here to support them," said Marlina Duncan, EdD, vice chancellor for diversity and inclusion.
Dr. Duncan said that learners of color, or anyone else who feels like they are not part of the mainstream, often question whether they belong. "Am I an imposter? Am I just here because of who I am, because of my identity?" she said. "We want to dispel those myths and provide them with the resources they need."
In an interactive discussion on "Imposter or Innovator," participants addressed characteristics of and strategies to deal with that phenomenon—feelings of "phoniness;" seeking validation from others and being sensitive to criticism; feeling self-doubt; and being uncomfortable with one's achievements. The discussion was led by Maria Garcia, MD, MPH, the Marcellette G. Williams Scholar, professor of medicine and family medicine & community health, and assistant vice provost of diversity and student success; Abita Raj, MD, assistant professor of psychiatry and medical director of Student Counseling Services; and learner Helen Magana, PhD candidate.
"I feel like I have a team here already, like I'm home," said first-year T.H. Chan School of Medicine student Obinnaya Okereke. "We're already in a room full of people who are diverse, who look like me; and I've met people in my med school class, even nursing class, even graduate school class."
Okereke was speaking outside the auditorium with two other Chan School of Medicine learners of color, who are also now his roommates.
"I picked UMass over a number of other schools, like the one thing that really stood out to me was the community," said medical student Ishan Bhatia. "The fact that before we even have any med school orientation, we are already doing the diversity orientation—that really makes me feel as if people of color are valued here."
Suhas Suddala, a medical student, agreed that UMass Chan's tight-knit community and getting to know students in the other programs attracted him to the school. "Knowing that I'll have all these people who are willing to support me and help me study, and just being in a place where it's not just about trying to get ahead, but also about making those lasting connections, was exactly what I wanted," he said.
A trio of participants from the Morningside Graduate School of Biomedical Sciences also spoke to the distinctive support for learners of color that they had experienced so far.
"I was from North Carolina, a small town in the mountains, and I was the only person that looked like me," said PhD student Zhane Adamson. "Here I feel a lot more accepted, a lot more like there's resources here for me."
"I definitely chose UMass Chan Medical School because of the collaborative nature of this institution and the research is top notch," said PhD student Sushmita Nayak.
Another PhD student, Shriram Ramani, who grew up in India, said, "This was helpful as well as to get to know other people in multiple departments. UMass Chan promotes diversity and it made me feel included."
Kirsten Fowlks, a student in the psychiatric nurse practitioner program in the Tan Chingfen Graduate School of Nursing, said the orientation for learners of color added to her experience, "Just because I'm having some fears to kind of connect to or with classes and things."
Related UMass Chan news stories:
UMass Chan launches new academic year with first-ever joint orientation for all three schools
High School Health Careers precollege immersion returns onsite at UMass Chan