UMass Chan postdoc receives two fellowship awards to support brain research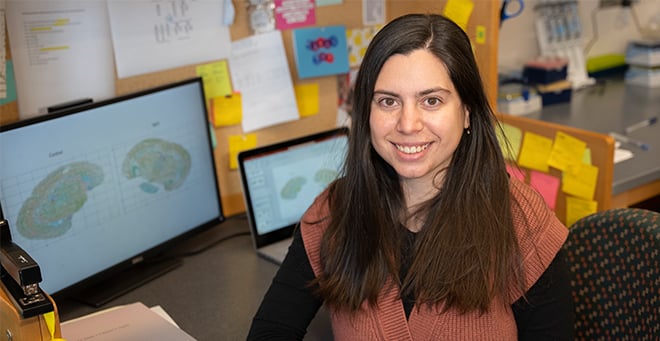 Violeta Durán Laforet, PhD, a postdoc in the lab of Dorothy P. Schafer, PhD, associate professor of neurobiology, has been awarded two fellowships totaling $375,000 to support her research into how cells in the brain affect aging.
The new funding is from the BrightFocus Foundation Postdoctoral Fellowship Program in Alzheimer's Disease Research, which supports young researchers in their final stages of mentored training, and the Alzheimer's Association Research Fellowship, for researchers doing work related to Alzheimer's disease and dementia.
The Schafer lab studies how microglia regulate neural circuits in healthy and diseased nervous systems. The lab has shown that these cells are capable of "eating" synaptic connections between nerve cells to sculpt developing neural circuits and "over-eating" at early stages of neurogenerative disease to dismantle circuits. The lab is working to understand how these cells instigate and spread inflammation in brain circuits with a focus on multiple sclerosis and Alzheimer's disease.
"Microglia are the resident immune cells of the brain. They're there to protect us from different inflammatory insults like pathogens or injury, but they can also have roles in propagating the inflammatory process in different diseases and even aging," Dr. Durán Laforet explained.
Cellular senescence is a process that occurs frequently in aging in which cells stop dividing and begin producing inflammatory mediators. With the BrightFocus award, Durán Laforet will be using a spatial transcriptomic technique called MERFISH to map senescent cells in the brain for the first time. These cells eventually stop multiplying but don't die off when they should, continuing to release factors that can trigger inflammation.
"It's been shown that if you remove senescent cells from the brain in an Alzheimer's mouse model, the pathology improves. Moreover, senescent cells have been detected in the brains of Alzheimer´s disease patients. So that gives us a clue that senescent cells are doing something in Alzheimer's—they're damaging the brain and they're participating in this pathology," Durán Laforet said.
Using technology funded by a Massachusetts Life Sciences Center grant, Dr. Schafer and Christina Baer, PhD, assistant professor of microbiology & physiological systems, received in 2020, Durán Laforet will be able to take a slice of tissue, and, without losing the coordinates of every single cell, study the gene expression of those cells.
"Our thought is that this could be the starting point for many more studies because this has never been done. Maybe we find that senescent cells are restricted to a certain area, and then we can develop new pharmacological strategies. This is going to allow us to target future treatments for Alzheimer's disease and any disease that has a senescent component," Durán Laforet said.
The Alzheimer's Association award will fund Durán Laforet's investigation into a subset of microglia known to reside in a vascular niche. This type of microglia has been implicated in pathogenic changes that occur in Alzheimer's disease in the blood vessels. Durán Laforet will again use MERFISH, this time to interrogate the particularities of the vascular-associated microglia to see how they change with aging and neurodegeneration.
Durán Laforet said she has long been interested in neurodegenerative diseases and everything that has to do with the brain. While earning her undergraduate degree in pharmacy from the Universidad Complutense de Madrid, she joined the neurovascular research unit, combining a new fascination with the brain with an interest in the immune system. She earned her PhD in biomedical research from the same school. During the final year of the PhD program, she came to Massachusetts to study with Eng Lo, PhD, professor of neurology and radiology at Harvard Medical School. She arrived at UMass Chan in early 2021 to work in Schafer's lab.
Related UMass Chan news story:
Massachusetts Life Sciences Center capital funding to support three programs at Medical School