UMass Chan celebrates 'Black joy' at Juneteenth event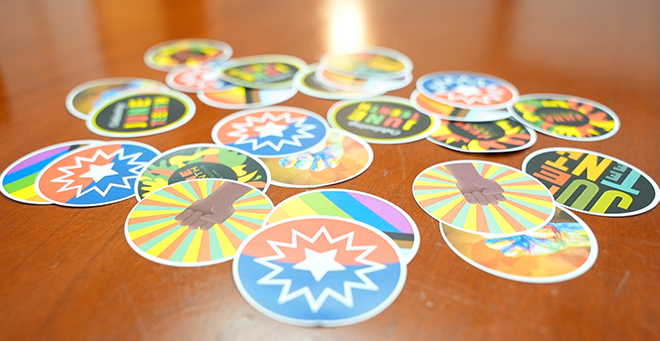 The Diversity and Inclusion Office led the UMass Chan Medical School community in a virtual celebration of Black joy through art and poetry in celebration of Juneteenth on Wednesday, June 15.
Vice Chancellor for Diversity and Inclusion Marlina Duncan, EdD, welcomed participants and emphasized that, "Juneteenth is a time for reflection and rejoicing," and noted that "the holiday's growing popularity signifies a level of maturity in America."
Kajette Solomon, social equity and inclusion program specialist at Rhode Island School of Design Museum of Art, presented, "Black Art: In the Absence of Light." The presentation's title was inspired by an HBO documentary that featured the works of Black artists and their stories over two centuries. An immigrant from Jamaica who credits her culture for helping to develop her love of Black art, Solomon said that because the world of art often excluded those with her background, she is committed to building equitable, diverse and inclusive museums for all through anti-racist pedagogy.
Through the works of local and nationally known artists from the 19th through the 21st century, Solomon conveyed the many purposes and nuances of black art. "Shaped by social movements, place, race and culture, Black art gave African Americans space to express ideals, customs and the achievements of a people," she said. Solomon invited listeners to the Rhode Island School of Design to view the art used in her presentation.
The celebration continued with an online poetry breakout room. Facilitated by members of the Diversity and Inclusion Office, the discussion centered on the works of three poets and drew robust reflections on the Middle Passage, racism, Black resistance and the radical nature of Black joy that followed.
"There is a lot there for me in terms of just thinking about how there are all these kinds of layers and complexities of how racism functions. There is that understanding that you cannot fix it today, you cannot change it today and it takes time," said Tiffany Cook, MA, director of diversity, equity and inclusion education and integration, as she reflected on the Langston Hughes poem "I, Too."
"The specificity of the term really matters because Black pain and suffering is so pervasive in our culture," said Janjay Innis, MDiv, communications content specialist for diversity and inclusion, as she framed the concept of "Black joy" for listeners.
"Pain and loss are oftentimes the root of the stories we hear versus the stories of joy and community, so that was so striking to me, and I just think a powerful line that will stick with me for a while," said Jorge Sanchez, MEd, program director for diversity and inclusion who also served as a facilitator of the poetry room.
Following the online discussion, members of the UMass Chan community were invited to attend art and button-making workshops on campus. Sha'Asia Medina, director of The Village, an Afrocentric cultural, learning and healing center in Worcester, lead participants in drawing the Juneteenth flag and half Pan-African flag on canvas.