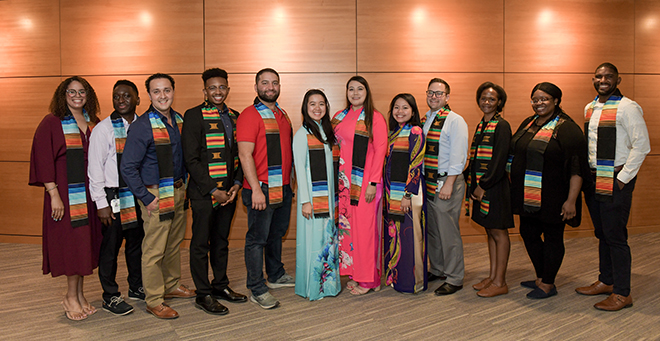 With an audience of faculty mentors, family, friends and fellow scholars, graduating UMass Chan Medical School students from paths historically underrepresented in medicine and science were ceremonially presented Kente and multicultural stoles on Friday, June 3, to wear at the 49th Commencement.
Brian Lewis, PhD, the George F. Booth Chair in the Basic Sciences, professor of molecular, cell & cancer biology, assistant vice provost for outreach and recruitment and associate dean for diversity and pre-matriculation programs, called the ceremony, "a new tradition at UMass Chan that we hope will live long," as he welcomed guests at the Albert Sherman Center.
Students from the T.H. Chan School of Medicine, Tan Chingfen Graduate School of Nursing and Morningside Graduate School of Biomedical Sciences receiving stoles were given an opportunity to reflect on their academic journeys and speak to the community that has nurtured them along the way.
"We have pushed each other to break boundaries while being respectful," said PhD candidate Daniel Hidalgo, Class of 2022 speaker for the Morningside Graduate School of Biomedical Sciences. "Let this be the beginning of the three schools united. We are knocking at the same door at the same time and if we unite, I think we can knock a bit harder and knock it down."
DNP candidate Canary Ly echoed sentiments of unity among the schools.
"This goes to show that the intersectionality of medicine will continue to advance as long as there are supportive people in this community," Ly said.
An appreciation for mentorship that UMass Chan provides through outreach programs and the Worcester Pipeline was shared in many student reflections.
Medical student Rebecca Toohey, a product of the Worcester public school system who is headed to UCLA Medical Center for an anesthesiology residency, expressed gratitude for the Health Sciences Preparatory Program at UMass Chan that contributed to her success in medical school. She reminded her peers to never forget where they come from and to give back to their community.
Faculty wished the graduating students well.
"Never forget to mentor and seek mentors in your career," said Joan Vitello, PhD, the Donna M. and Robert J. Manning Chair in Nursing, dean of the Tan Chingfen Graduate School Nursing and professor of nursing.
"Coming to medical school is a journey of courage and walking through the door when you do not feel like you belong is an act of courage," said David Hatem, MD, professor of medicine and co-director of the T.H. Chan School of Medicine learning communities.
"I am not so emotional about what you have done, but I am more emotional about what you have begun. Do not forget the power of your personhood and your ability to change the lives of those around you," said Mark Johnson, MD, PhD, the Maroun Semaan Chair and chair and professor of neurological surgery and senior vice provost for mentorship, leadership and transformation. Johnson encouraged more gatherings to foster community connections throughout the academic year.
Overcome by emotions, DNP candidate Ezequiel De Leon expressed his joy over the ceremony and the diversity in the room.
"Diverse spaces normalize you. Feeling like you belong allows me to take on any challenge," said De Leon.
The ceremony was organized by the UMass Chan chapter of White Coats for Black Lives and the UMass Chan Diversity and Inclusion Office. The fabrics and colors on the stoles represent unity, belonging, renewal and prosperity and embody the fulfillment of the dreams of the graduates and those who have journeyed with them. Commencement is Sunday, June 5, at UMass Chan.
Related UMass Chan news stories:
Vibrant stoles at Commencement to honor accomplishments of students of color
Graduating medical students say BaccMD program provided key support early in medical journey
UMass Chan Medical School 49th Commencement on Sunday, June 5, will cap off celebratory week