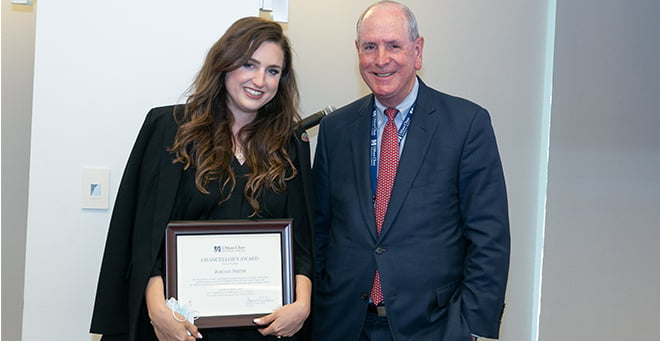 Members of the T.H. Chan School of Medicine Class of 2022 were lauded on Friday, June 3, at UMass Chan Medical School's awards ceremony for their resilience shown during the life-changing pandemic years.
"Let me reassure you that you are prepared to be great residents, great physicians," said Terence R. Flotte, MD, the Celia and Isaac Haidak Professor, executive deputy chancellor, provost and dean of the T.H. Chan School of Medicine, in his welcoming remarks.
Dr. Flotte quoted New York Times reporter Emma Goldberg, who said in a podcast interview that no matter how prepared one becomes in medical school, "You can still be thrown into a situation that tests you in unexpected ways, and you'll just tap into the humanity and the reason that you decided to do this work in the first place."
While the entire class rose to the challenges of navigating studies, clinical care, relationships and community involvement during the COVID-19 pandemic, several graduates were recognized for noteworthy achievement reflected in some 36 awards.
Jordan Smith, who is graduating in the MD/PhD program, received the Chancellor's Award, the highest award to a graduating student.
Chancellor Michael F. Collins presented the award to Smith, highlighting her three publications as first author; numerous publications, conference presentations and grants as co-author; and as a peer mentor and student advisory council member, giving "so much of the time to fellow students and showing extraordinary talents as a leader."
Smith is heading to Oregon Health & Science University in Portland, Oregon, for a residency in neurological surgery. Her work will build on previous research at UMass Chan on pediatric liver cancer, which was published online in the journal Hepatology. Smith said afterward that she was "speechless" about receiving the award.
"I feel so privileged to train at this institution," said Smith. "I come from a family with no physicians in it, I'm from out of state (Indiana) and UMass Chan embraced me. It's the community here. It makes it possible for students to succeed."
Graduating student Rodney Bruno shared the special moment of receiving the Thomas Halpin Award for Obstetrics & Gynecology Education and Mentoring with the physician educator for whom the award was named.
Professor Emeritus Thomas F. Halpin, MD, said afterward that compassionate care was needed now more than ever in OB-GYN.
Bruno, who said he was "very grateful and surprised" to receive the award, said, "I hope what stood out was my passion for patient care."
Bruno spent a population health clerkship addressing hypertension in the Dominican Republican, where he used his fluency in Haitian Creole. He will be a resident in OB-GYN at Boston Medical Center, the hospital where he was born. Bruno said he chose OB-GYN because it combines his interests in primary care, surgery and addressing health disparities.
Deniz Cataltepe was another class member recognized for advocacy for the vulnerable, receiving the USPHS Excellence in Public Health Award.
As a medical student, Cataltepe co-founded the UMass Chan chapter of the national organization SAFE (Scrubs Addressing the Firearm Epidemic) and participates in local, regional and national pediatric gun-injury prevention programs.
Anne E. Garrison, MD, assistant professor of obstetrics & gynecology, associate dean for student affairs and assistant dean for professional development, reflected on recent mass shootings in Uvalde, Texas; Buffalo, New York; Tulsa, Oklahoma; and countless other communities.
"Deniz, please do not stop your work and your fight," said Dr. Garrison. "Our communities need physicians like you. Our children need physicians like you."
T.H. Chan School of Medicine Class of 2022 award recipients are:
The Chancellor's Award
Jordan Smith
Certificate of Appreciation for Leadership in the Learning Environment
Brian Argus, Eleanor Montgomery, Kian Samadian
Outstanding Accomplishment in the Longitudinal Capstone Scholarship and Discovery Course
Rachel Anderson, Kara Banson, Deirdre Buckley, Erin Caffrey, Richa Chhaya, Nayha Chopra-Tandon, Erica Christenson, Katherine Cooper, Christopher DiTullio, Khoi Do, Christine Donohue, Fiona Dore, Emily Stabnick Eiel, Anthony Foscolos, Sean Hamill, Meghan Harrington, Rose Healy, Kathryn Hiller, Nichita Kulkarni, Leo Kuwama, Sam Lauffer, Christopher Lee, Terence Lee, Ben Maxner, Zachary Michaels, Hayden Peirce, Ariana Perry, Manasa Raman, Haley Schachter, Simone Thibault, Brittany Tran, William Weir and Christine Yao
Victoria Fleming (awarded in 2022 but graduating in 2023)
Senior Scholars Award for Achievement in Research
Adam Cellurale (2021), Hans Erickson (2022) and Megan Yuen (2022)
Student STAR Award: Choosing Wisely
Samuel Lee
Student STAR Award: EPC
Lindsay Walsh
Interprofessional Trainee Quality Council
ITQC Officers: Kimberly Reimold, 3 years, green belt awardee, Vice Chair 21-22
Green Belt Awardees: Iha Kaul (3 years), Ashley Lin (3 years) and Manasa Raman (3 years)
Yellow Belt Awardees: 2 years
Deirdre Buckley, Colin Flannelly, James Joseph, Nichita Kulkarni, Olivia (Hall) Mandile and Stephanie Trimboli
Yellow Belt Awardees: 1 year
Brian Argus, Kara Banson, Erica Christiansen, Katherine Cooper, Emily Gentile, Alice Kennedy, Amanda Lee, Terrence Lee, Laura Ngyuen, Filia Van Dessel and Lindsay Walsh
Participants: Colby Cayton, Guyu Liu and Lulu Xu
Remillard Family Community Service Fund Recipients
Emily Adler, Peter Cruz-Gordillo, Meghan Harrington, Tatiana Petrovick, Manasa Raman and Xinmiao (Bridget) Yang
Mick Huppert Community Health Scholar Award
Iha Kaul (2020), Emily Nuss (2019), Haley Schachter (2020) and Filia Van Dessel (2020)
Massachusetts Medical Society Scholars Award
Scholars: Alec Allain and Deirdre Buckley
Finalists: Brennan Dagle, Kelly Flanagan, Haley Schacter and Paolo Tavares
American Women's Medical Association Award, Glasgow-Rubin Citations for Academic Achievement
Richa Chhaya (American Medical Women's Association Janet M. Glasgo Memorial Certificate of Commendation)
AMWA citations for Academic Achievement: Deirdre Buckley, Emily Stabnick Eiel, Kelly Flanagan, Holly Neale, Alexandra Palmer, Alexandra Rabin, Shauna Rice, Haley Schachter, Jordan Smith, Simone Thibault and Lindsay Walsh
Martin Luther King Jr. Semester of Service Awards
Delia Sanders (2019), Katherine Cooper (2020), Rachel Anderson (2020), Elizaveta (Elya) Reznichenko (2020, 2021), John Romano (2020) and Nichita Kulkarni (2022)
Alpha Omega Alpha Certificates
Alec Allain, Deirdre Buckley, Deniz Cataltepe, Richa Chhaya, Nolan Condron, Katherine Cooper, Amberly Diep, Emily Stabnick Eiel, Kelly Flanagan, Alec Gramann, Kathryn Hiller, Rosemary Kelley, Collin Leibold, Mark Liu, Gabrielle Luiselli, Katherine Lynch, Peter Makhoul, Arden Marin, Benjamin Maxner, Holly Neale, Olivia Nuelle, Rachel Padilla, Alexandra Palmer, Ryan Payne, Alexandra Rabin, Kimberly Reimold, Shauna Rice, Haley Schachter, Alexander Schryver, Julia Sherman, Jordan Smith, Hannah Swartz, Simone Thibault, Charlotte Walmsley, Lindsay Walsh and Timothy Winn
Gold Humanism Honor Society Certificates
Emily Adler (p), Kara Banson, Mary Bassaly, Sarah Blackwell, Rodney Bruno, Deirdre Buckley (p), Deniz Cataltepe, Peter Cruz-Gordillo, Brennan Dagle, Amberly Diep, *Christopher DiTullio, *Adrian Fanucci-Kiss, *Kelly Flanagan, Emily Gentile, Alexander Kaplan (p), Iha Kaul (p), Leo Kuwama (p), *Christopher Lee, *Zachary Michaels, Shafik Mutaawe, Olivia Nuelle (p), *Emily Nuss (p), Simone Thibault (p), Filia Van Dessel, Bronwyn Wada-Gill (p), Charlotte Walmsley, *Imani Williams and Timothy Winn
(p) = PURCH
*Selected in AY20-21
Leonard Tow Humanism in Medicine Award
Bronwyn Wada-Gill
Ann Nemitz Memorial Award
Collin Leibold and Brownyn Wada-Gill
Jacob Brem Pediatric Award
Emily Gentile
New England Pediatric Society Award
Deniz Cataltepe
Marianne Felice Adolescent Health Award
Wanlu Xu
Richard Hunter Award for Excellence in Obstetrics & Gynecology
Deirdre Buckley
Thomas Halpin Award for Obstetrics & Gynecology Education and Mentoring
Rodney Bruno
Karen Green Award for Social Justice (OB-GYN)
Simone Thibault
American Academy of Neurology Medical Student Prize for Excellence in Neurology
Alexandra Rabin
Richard Glew Award for Outstanding Performance in Medicine
Deirdre Buckley
Mary Hawthorne Award for Outstanding Clinical Performance in Medicine
Michael Kiritsy
UMass Surgical Society Award for Excellence in Student Clinical Performance
Fiona Dore
UMass Surgical Society Award for Excellence in Surgical Education
Nichita Kulkarni
Association of Academic Surgery Student Research Award
Fiona Dore
SAEM Excellence in Emergency Medicine Award
Lindsey Brown
Massachusetts ACEP Medical Student of the Year Award
James Joseph
Aaron Lazare Award for Psychiatry
Adrian Fanucci-Kiss
John Efstathiou Memorial Award
Emily Stabnick Eiel, Kelly Flanagan, Mark Liu, Gabrielle Luiselli, Peter Makhoul, Holly Neale, Olivia Nuelle, Shauna Rice and Hannah Swartz
USPHS Excellence in Public Health Award
Deniz Cataltepe
Catherine Zurier Memorial Award
Colin Flannelly, Alec Gramann, Samson Jolly, Michael Kiritsy and Jordan Smith
Gary Winzelberg, MD '74 Memorial Award
Joseph LiCausi
Kristen M. Ettensohn Memorial Award for Medical Excellence through Advocacy, Art & Athletics
Presented by Terence Flotte, MD, on behalf of Linda Hassan Ettensohn, MD and David Ettensohn, MD
Charlotte Walmsley
Outstanding Faculty and House Officers Awards
Faculty: Stephen Brooks, MD, (Cape Cod Hospital), Douglas Munsey, MD, (Cape Cod Hospital), Gayle Galletta, MD, (Clinton) and Karen Jeng, MD, (Milford)
UMass Chan Baystate - Harry Hoar, MD, and Liza Smith, MD
UMass Chan Worcester - Jeremy Aidlen, MD, John Broach, MD, James Carroll Jr., MD, Christopher Cerniglia, DO, Cezar Cimpeanu, MD, Henry Del Rosario, MD, Frank Domino, MD, Michael Ennis, MD, James Fidrocki, MD, David Fish, MD, Anne Garrison, MD, Timothy Gibson, MD, Kristina Gracey, MD, Luu Ireland, MD, Gregory Leslie, MD, Mary Lindholm, MD, Aaron Remenschneider, MD, Nancy Skehan, MD, William Wong, DO, and Susan Zweizig, MD
Housestaff: Alison Asirwatham, MD, Laurel Banach, MD, Ricardo Bello, MD, Stephany Giraldo Eierle, DO, Kelsey Mantoni, MD, Clark Murray, MD, Maegan Pollard, MD, Kendall Presti, MD and Paul Zeller, MD