T.H. Chan School of Medicine student working to install sunscreen dispensers in Worcester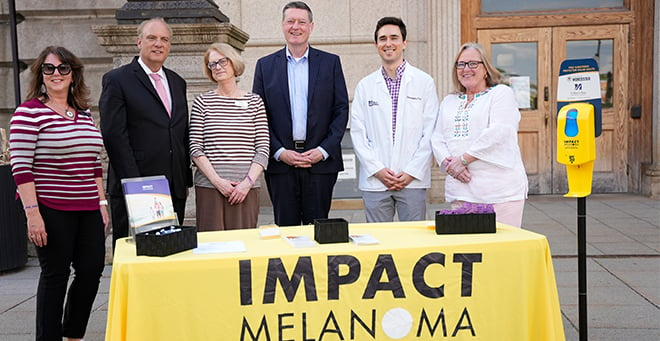 T.H. Chan School of Medicine student Christopher Fay is leading an effort to install nearly 50 sunscreen dispensers across the city of Worcester, where skin cancer is on the rise.
"There are community members for whom sunscreen is outside of their regular budget who will now be able to enjoy our city's treasured green spaces safely," Fay said during a news conference on the Worcester Common on Wednesday, May 25.
Fay's father was diagnosed with melanoma, which prompted the younger Fay to learn about prevention. The primary cause of nearly all skin cancer cases is harmful UV ray exposure without protection. Lower socioeconomic groups are disproportionately affected with a longer time to diagnosis and worse outcomes, Fay said. While melanoma accounts for just 1 percent of skin cancers, it affects approximately one in 27 men and one in 40 women in their lifetime.
"If children in Worcester have more access to sunscreen at our public parks, they'll be more likely to use it and continue to do so later in life," Fay said.
UMass Chan Medical School awarded Fay $12,000 as initial funding for the project, which kicked off during Melanoma Awareness Month. The American Cancer Society estimates that just under 100,000 new cases will be diagnosed in 2022. About 7,650 people are expected to die of melanoma this year.
By mid-June, bright yellow dispensers with SPF 30 sunscreen will be installed in public parks across the city, including at sports fields, playgrounds, nature trails and memorials. Additionally, there will be dispensers at Worcester Housing Authority locations and areas where the city's outdoor workers meet before starting their shifts. Fay also worked with the Worcester Red Sox. Fallon Health offered to fund 10 dispensers for Polar Park.
Fay worked closely with Worcester City Councilor Kate Toomey and the nonprofit IMPACT Melanoma to get the project off the ground. Fay presented the project to Worcester Mayor Joseph M. Petty and other city councilors and then began to work with various city leaders over the course of eight months.
"Last year, I had to have a little something taken off my face," Toomey said. "Everybody, whether you're light-skinned or dark-skinned or in between, you're all at risk of getting skin cancer. It's something we all need to be aware of."
Fay will soon be starting a research fellow year in cutaneous oncology at Brigham and Women's Hospital.
Related media coverage:
Father's fight with melanoma inspires UMass Chan Medical student to get free sunscreen dispensers in Worcester public spaces
Free sunscreen dispensers are on their way to Worcester in time for summer