Three student groups at UMass Chan Medical School have teamed up in a mentorship program called UMass LIGHT (the Leadership Institute for Growth, Health and Transformation). The goals of UMass LIGHT are to increase diversity, equity and inclusion; promote career growth; and create professional development opportunities through mentorship and community events. On Saturday, May 14, UMass LIGHT is hosting its first conference at the Beechwood Hotel across from the Medical School campus in Worcester.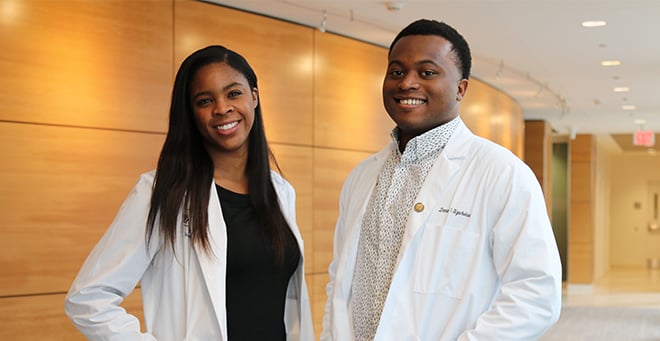 UMass LIGHT, which pairs students with faculty members, includes programs originally created by UMass Chan's chapters of the Student National Medical Association (SNMA), and American Medical Women's Association (AMWA) and the MD/PhD program. Organizers say UMass LIGHT has grown since its inception last year to include more than 300 students and faculty.
"There are not a lot of places where underrepresented students can have casual conversations with people with a lot of experience in this field to find support around the nuanced things—the things that aren't necessarily exams and step-by-step things, but how to, for example, look for opportunities," said Uchechi Nna, a student in the T.H. Chan School of Medicine.
Nna, a former SNMA executive board member, came up with the idea for UMass LIGHT along with fellow medical student Daniel Ugochukwu.
"We were thinking about how we can leave a lasting impact on the school, and we thought about mentorship and how there are not a lot of mentorships geared toward minority students here," Ugochukwu said.
The groups work with Mark Johnson, MD, PhD, the Maroun Semaan Chair in Neurosurgery, chair and professor of neurological surgery and senior vice provost for mentorship, leadership and transformation at UMass Chan. Dr. Johnson has been working with other UMass Chan leaders to establish a mentorship and leadership institute since being appointed senior vice provost last year.
"During the pandemic, I think it became very clear to many of us that we needed to be more connected," Johnson said. "The goal of the institute is to help students and faculty to realize their full potential, to help them to be more connected and to feel more included at UMass Chan."
The conference is Saturday, May 14, from 9 a.m. to 3:30 p.m. Speakers include Mary Ahn, MD, professor of psychiatry and vice provost for faculty affairs; Rick Sontag, MBA, founder and president of the Sontag Foundation, which aims to improve the quality of life for brain tumor patients; Terence R. Flotte, MD, the Celia and Isaac Haidak Professor, executive deputy chancellor, provost and dean of the T.H. Chan School of Medicine; and Jack Rossin, a presentation trainer and instructor at the Harvard T.H. Chan School of Public Health.
Participants will also have opportunities to develop leadership and mentorship skills.
Medical student Niharika Kareddy of AMWA and MD/PhD students Melanie Barbini and Michela Oster contributed to making the event happen.
Those interested in attending the event can register here. Additional information is available on the UMass LIGHT website. Questions can be directed to UMassLIGHT@umassmed.edu.
Related UMass Chan news stories:
'Community of mentoring' changing culture at UMass Chan
T.H. Chan School of Medicine students create mentorship program for accepted students
UMass Medical School holds first Learners of Color Orientation
Mark Johnson appointed senior consulting vice provost for mentorship, leadership and transformation