New research shows effectiveness of COVID-19 convalescent plasma in reducing hospitalization
UMass Chan researcher Jonathan Gerber co-author of study published in New England Journal of Medicine
A large, double-blind, randomized controlled trial comparing the efficacy and safety of COVID-19 convalescent plasma to placebo control plasma in adults found that outpatients who received convalescent plasma within nine days of the onset of COVID-19 symptoms were significantly less likely to be hospitalized than those who received placebo control plasma.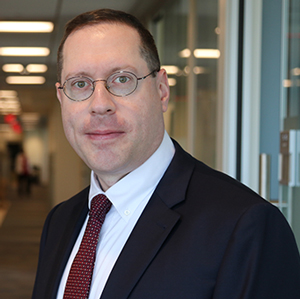 The 23-center study was published March 30 in the New England Journal of Medicine. Jonathan M. Gerber, MD, the Eleanor Eustis Farrington Chair in Cancer Research, professor of medicine, chief of the Division of Hematology/Oncology in the Department of Medicine and medical director of the UMass Cancer Center, is one of the co-authors on the study, which was led by researchers at Johns Hopkins Bloomberg School of Public Health.
The study was conducted between June 2020 and October 2021. A total of 1,181 patients were infused with either convalescent plasma containing antibodies specific to SARS-CoV-2—that is, plasma directly collected from the blood of someone who has recovered from COVID-19 infection; or placebo plasma (with no SARS-CoV-2 antibodies).
Of those receiving placebo plasma, 6.3 percent were hospitalized within 28 days, compared with 2.9 percent of those receiving convalescent plasma, corresponding to a 54 percent risk reduction among the convalescent plasma recipients. The decision to hospitalize patients was at the discretion of their local medical provider.
Fifty-three of the 54 COVID-19 hospitalized participants were unvaccinated.
"We're hoping to leverage this to resurrect convalescent plasma pipelines," said Dr. Gerber. "High titer [concentration] plasma, regardless of the variant of infection or vaccination, appears to have good neutralizing activity against all variants, unlike the monoclonal antibody therapies. This may be particularly important for immunocompromised patients."
"Our trial has important public health implications, especially in resource-constrained areas with imbalances in vaccine distribution," wrote the study authors. "COVID-19 convalescent plasma can be considered for initial use in patients with COVID-19 and for use in future pandemics while monoclonal therapies and vaccines are being developed."
Related UMass Chan news stories:
UMass Chan researcher explains convalescent plasma's potential as COVID-19 treatment
Early use of convalescent plasma treatment for COVID-19 helps avoid hospitalization