The Baker-Polito administration and the Massachusetts Life Sciences Center announced $28.3 million in capital funds to support 10 projects through the MLSC's Research Infrastructure program on Thursday, March 3, including a $2 million grant to support nanoscale imaging technology at UMass Chan Medical School to detect, track and investigate viruses of pandemic potential.
These funds will allow UMass Chan to acquire a super-resolution microscope, a live-cell imaging platform, a cell metabolism analyzer, a surface plasmon resonance instrument and the necessary computer hardware with analysis software. Separately, UMass Chan is spending $9 million to expand lab space, enabling more work on viruses of pandemic potential.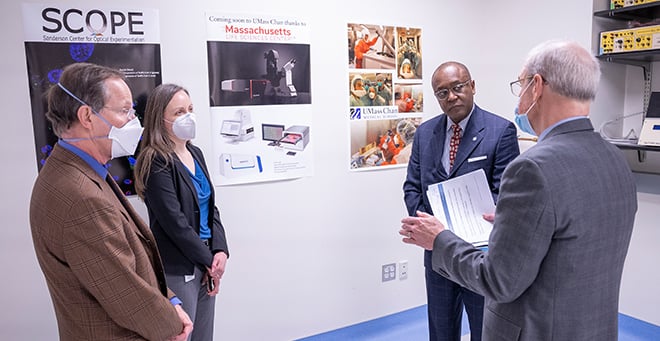 The availability of this cutting-edge instrumentation will equip the research community to study viruses and infected cell populations in culture and in tissue, which is critical for the identification and investigation of therapeutic targets, driving discovery and job creation throughout the Massachusetts life science ecosystem.
Christina Baer, PhD, assistant professor of microbiology & physiological systems and director of the Sanderson Center for Optical Experimentation (SCOPE) took MLSC President and CEO Kenneth Turner on a tour of the SCOPE facility, where the new microscope will be located.
"We are expanding rapidly, but we need access to this cutting-edge technology that we can't fund any other way," Dr. Baer said. "This is a culmination of five years' worth of work. I can't even believe it's going to be here. I'm so excited. It allows you to get much, much, much smaller and much, much, much finer than what we can do on our normal microscopes. And we're going to be able to do it in the live cells, which is just mind-blowing."
"I'm glad that we can be helpful," Turner said. "This is the stuff that I think we need to double down and lean in on."
Terence R. Flotte, MD, the Celia and Isaac Haidak Professor, executive deputy chancellor, provost and dean of the T.H. Chan School of Medicine at UMass Chan, spoke about how collectively, the UMass system cores have helped 227 small companies.
"These cores really do help what I know is your primary mission, which I know is economic development," Dean Flotte told Turner.
Since its inception, the MLSC has administered an open, competitive capital program to provide grants for projects that support the life sciences ecosystem in Massachusetts. This has led to more than $550 million of investments toward nearly 200 capital projects and infrastructure. These projects have leveraged an additional $1.4 billion in funding.
"To remain the global leader in the life sciences, we must continue to leverage emerging research and innovative infrastructure throughout the commonwealth," Turner said. "We are incredibly bullish on the potential of these projects to support our research and entrepreneurial communities, while also advancing important science to produce the next breakthrough unlocking treatments and cures for patients around the world."
Related UMass Chan news story:
Interactive virtual ScienceLIVE program builds in Worcester schools