Two years after receiving a grant from the nonprofit Hyundai Hope on Wheels, Jason Shohet, MD, PhD, has received a new, two-year $300,000 Scholar Hope Grant to focus on overcoming drug resistance in treatments for neuroblastoma, a deadly cancer in children that affects the peripheral nervous system.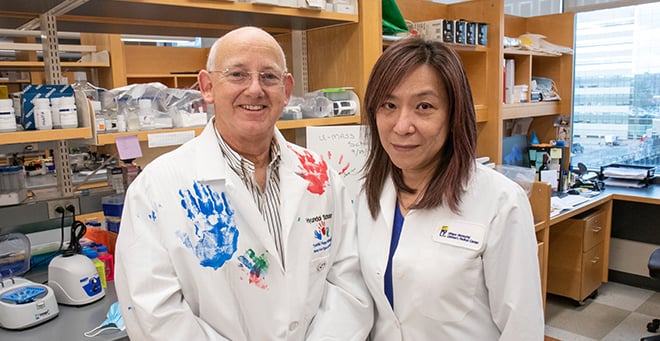 Neuroblastoma accounts for about 15 percent of pediatric cancer deaths, said Dr. Shohet, the Ali and John Pierce Chair of Pediatric Hematology/Oncology, associate professor of pediatrics and chief of the Division of Pediatric Hematology and Oncology in the Department of Pediatrics. The typical patient is under age 5; most are diagnosed at about 22 months. Neuroblastoma typically presents in the adrenal glands, which are on top of the kidneys, and can spread to the liver and bone marrow, and occasionally, the lungs.
This aggressive cancer remains a major challenge in pediatric oncology. Despite intensive treatment such as surgery, chemotherapy, radiation therapy and bone marrow transplantation, only about half of children with metastatic neuroblastoma survive.
"Our current chemotherapy-based treatment is hard on these young children and most children suffer significant 'late effects' of chemotherapy such as hearing damage, growth delays and liver damage. Our patients also incur an increased risk for secondary cancers from exposure to chemotherapy, so discovering new, less toxic treatments that cure more children is what our laboratory focuses on," Shohet said.
For the 2019 Hyundai Hope for Wheels grant, Shohet collaborated with Joae Qiong Wu, PhD, assistant professor of pediatrics, to study the role the enzyme protein methyltransferase 5 (PRMT5) plays in neuroblastoma. The research team found that PRMT5 promotes tumor growth in preclinical models of neuroblastoma. Importantly, drugs targeting PRMT5, currently in clinical trials for other types of cancer, dramatically inhibited tumor growth and tumor metastasis.
This new grant will focus on understanding the best way to combine PRMT5 targeting with established treatments. Shohet said that relapsed neuroblastoma is the primary cause of death in children with the disease.
"What happens when you treat neuroblastoma patients with chemotherapy alone is they have an initial response, but about half of cases become drug resistant," Shohet said.
Building upon the findings that resulted from his collaboration with Dr. Wu, Shohet hopes to sensitize neuroblastoma to chemotherapy and prevent the escape of drug-resistant tumor cells.
"Jason is a very good mentor," Wu said. "The collaboration between basic and clinical research has proven to be very fruitful. And we hope to translate our basic research from bench to bedside and bring discoveries from the lab into the clinic. Our goal is to make our treatments more effective and less toxic for these very young children."
Hyundai presented more than $13 million in pediatric cancer research grants across the U.S. in 2021. Since Hyundai and its U.S. dealers launched Hyundai Hope on Wheels in 1998, the initiative has awarded more 1,000 research grants worth more than $185 million to improve outcomes for children battling cancer. UMass Chan researchers have received $1.7 million since 2011.
Related stories on UMassMed News:
Hyundai Hope on Wheels award supports Jason Shohet's research in childhood cancer
Physician-scientist Jason Shohet researches path to better childhood cancer therapies
Wen Xue receives $250,000 for pediatric cancer research from Hyundai Hope on Wheels