Janet Lubov, a dermatology research fellow at UMass Chan Medical School, hopes to help advance skin health in resource-limited communities, locally and globally, through sustainable and integrated approaches to clinical care, education, research, policy and advocacy. The Lupus Research Alliance has awarded Lubov a $15,000 Diversity Research Supplement Award for her work on cutaneous lupus erythematosus, a skin disease typically found on sun-exposed areas such as the face, neck, ears, legs and arms.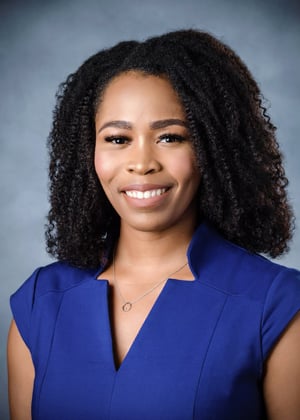 According to the Lupus Foundation of America, lupus is three times more common in African American women than in white women. As many as one in 250 African American women will develop lupus. Lubov said she became interested in the health issue while living in different countries in eastern and southern Africa while her mother was a physician with the World Health Organization.
"Unfortunately, while much has changed in medicine since then, much remains the same on the ground to date," she said. "I am privileged to now be able to understand and contextualize those childhood exposures to skin diseases that have long been low prioritized or outright neglected in under-resourced areas of the tropics."
A former critical care nurse, Lubov has a bachelor's degree in nursing from the University of Maryland Baltimore. She is enrolled in medical school at Wright State University Boonshoft School of Medicine in Dayton, Ohio, where she is also pursuing a master's in pharmacology and toxicology.
This year, Lubov is working remotely as a dermatology research fellow with Jillian Richmond, PhD, assistant professor of dermatology at UMass Chan. Lubov is drawn to the study of lupus and other immune-system-related dermatologic conditions, believing they represent a need gap contributing to health disparities everywhere.
The Richmond lab studies treatment targets, current treatment optimization and sourcing of potentially novel treatment options. The team primarily uses gene expression profiling in understanding the genetics and epigenetics of lupus and other dermatologic conditions. Other forms of research such as systematic review and literature reviews are also part of their tools for discovery.
Lubov credits her growth in bench research to the supportive and talented researchers affiliated with Dr. Richmond's lab.
"Dr. Richmond's style of mentoring, her network of colleagues and the advanced biotechnology access afforded to me encourages growth and autonomy in a challenging but very nurturing environment," Lubov said.
Richmond said Lubov is a promising researcher and future physician.
"Janet is one of the most organized people I know, creating spaces that help our team function smoothly," she said. "She always takes time to educate and elevate her lab mates. I am truly impressed by all that Janet accomplishes. She will make a superb physician-scientist."
Related story on UMassMed News:
Jillian Richmond receives diversity award to mentor med student on lymphoma research