Ann Moormann elected a fellow of the African Academy of Sciences
UMass Chan Medical School global health researcher Ann Moormann, PhD, MPH, has been elected as a Fellow of the African Academy of Sciences in recognition of her outstanding contributions to the development of science, her leadership roles, academic mentoring and career development of scientists in Africa. The African Academy of Sciences Fellowship comprises individuals who have reached the highest level of excellence in their field of expertise and have made contributions to the advancement of the field on the African continent.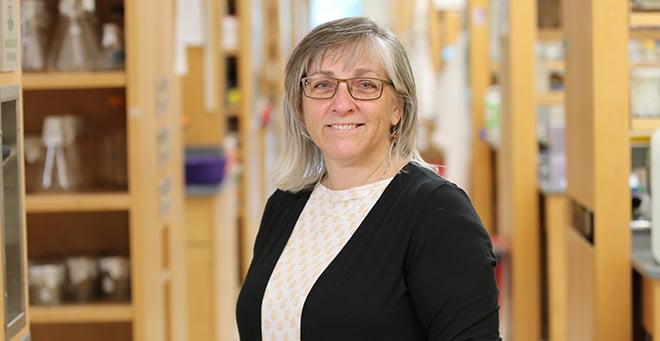 A UMass Chan faculty member since 2009, Dr. Moormann, professor of medicine in the Division of Infectious Diseases and Immunology, is a member of the Program in Innate Immunity and the UMass Cancer Center.
Moormann has brought her expertise in immunology and infectious diseases, pediatrics and epidemiology to bear on her goal to improve prevention and treatment of and outcomes for pediatric cancer in limited resource settings in Africa. Her current focus is on understanding the immunopathology of malaria, Epstein-Barr virus and endemic Burkitt lymphoma, the most common pediatric cancer in sub-Saharan Africa.
Moormann has been a visiting scientist at the Kenya Medical Research Institute, Center for Global Health Research since 2002 and was co-director of research for the AMPATH Oncology Institute in Eldoret, Kenya, from 2012 to 2019. She started the Kenya Burkitt lymphoma project in 2002, seeded by funding from the National Institutes of Health, which has led to clinically important insights into the etiology and pathogenesis of endemic Burkitt lymphoma. She was invited to participate in a series of NIH National Cancer Institute-sponsored workshops that launched the National Cancer Institute of Kenya in 2012, which has been instrumental in improving cancer awareness and treatment throughout the country.
In the area of medical education, Moormann has been a mentor on several training and career development grants in Kenya, Uganda and Ghana, and worked with UMass Chan colleagues to establish residency programs at the A.M. Dogliotti College of Medicine in Liberia. In 2015, she was among 10 faculty recognized at Commencement for their selfless and lifesaving efforts to stem the Ebola outbreak in Liberia.
Moormann shares her passions for science and global health with UMass Chan students as director of the Immunology & Microbiology Program in the Morningside Graduate School of Biomedical Sciences and as a capstone advisor and mentor for residents, fellows and medical students in the Global Health Pathways program.
"I find one of the most rewarding aspects of being in academic research is seeing my mentees succeed," she said.
The African Academy of Sciences is a nonaligned, nonpolitical, not-for-profit pan-African organization whose vision is to see lives on the African continent transformed through science. Once Moormann is inducted as a fellow at the next general assembly meeting, she will contribute to strategic leadership in shaping AAS initiatives.
Related stories on UMassMed News:
Sarah Nicole Forrester, Ann Moormann awarded $2 million NCI SeroNet grant
Liberian health care system grows as Patricia McQuilkin, UMMS colleagues maintain commitment