DIO launches Diversity Campus Read
Campus community to read Medical Apartheid and The Sum of Us: What Racism Costs Everyone and How We Can Prosper Together
The Diversity and Inclusion (DIO) Office at UMass Chan Medical School is hosting a Diversity Campus Read featuring Medical Apartheid by Harriet A. Washington and The Sum of Us: What Racism Costs Everyone and How We Can Prosper Together by Heather McGhee.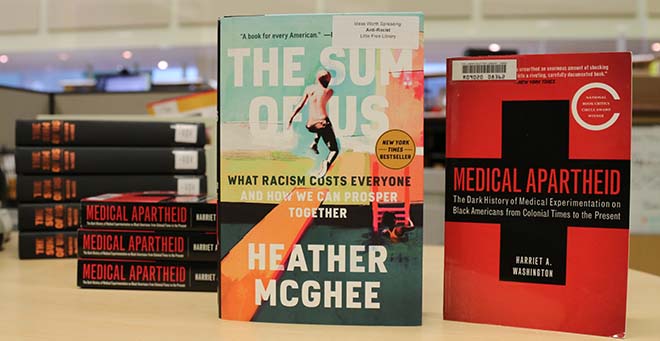 The DIO has purchased a limited number of electronic copies of both books, which can be read on a Nook e-reader available as a free download from Barnes & Noble. Email Holly Brown at Diversity@umassmed.edu for further instructions on how to access a copy. The Lamar Soutter Library has five print copies available to check out for both titles as well as access to an e-book version of each.
A series of group discussions begins Monday, Dec. 13, and incentives such as raffle drawings will be offered. (See schedule of discussions below.) The Diversity Campus Read concludes in February, with a guest speaker to support the UMass Chan community in the practical application of the subject of the books.
The campus community is encouraged to participate through departmental discussions of the books. Through this active engagement with the text in a group setting, participants will have the opportunity to learn from diverse perspectives of other readers, and to elaborate and expand on the information presented in each book. Discussion guides, recommendations for further reading and additional resources will be made available through the Lamar Soutter Library.
About the books
In her award-winning book Medical Apartheid, Harriet A. Washington shines a light on open secrets foundational to the medical profession, the abuse of Black people by the medical system and the continued marginalization of the Black community when accessing care. From the earliest days of the colonial slave trade to contemporary issues, Washington delves into primary source material from journal articles, news coverage and first-hand accounts to demonstrate the myriad ways Black bodies have been used to contribute to medical knowledge at the expense of Black people.
As COVID-19 has put into stark contrast these persistent health disparities and highlighted the ongoing and justifiable mistrust of the medical establishment in many communities, this selection is both timely and timeless. As an institution focused on research, education and service in health care, the history laid out on the pages of Medical Apartheid is foundational to our work and awareness of it is vital to our efforts to improve health equity in Massachusetts and around the world.
In The Sum of Us: What Racism Costs Everyone and How We Can Prosper Together, Heather McGhee, economic and social policy expert, demonstrates how systemic racism and racist policies harm everyone. While it is largely undisputed that racist policies are harmful to minoritized groups, it may be less apparent that these policies harm everyone in the community, including the majority groups in power.
In a cross-country journey, McGhee highlights this theme as it appears again and again in cities and towns from Maine to California. But McGhee also delivers a message of hope, and highlights what we all stand to gain when we come together, a principle McGhee terms the "solidarity dividend." At times frustrating and inspiring, The Sum of Us paints a hopeful vision for progress where everyone can thrive. While Medical Apartheid takes a deep dive into the history of medical oppression in the United States, The Sum of Us takes a broader view of the public and private policy landscape, how it impacts our communities and how we can be part of making change. Readers will be empowered to question their preconceptions and explore alternative solutions for local, regional and national problems in our health care systems, educational systems and beyond.
Amy Reyes is an education and clinical services librarian at the Lamar Soutter Library at UMass Chan Medical School.
Group discussions
Dec. 13 – Medical Apartheid – Chapters 1 & 2 – noon to 1 p.m. https://umassmed.zoom.us/meeting/register/tJwkf-yhqDMrGNT2jHZV81XXNIYjNjozpWZw
Dec. 14 – Medical Apartheid – Chapters 10 & 11 – 4:30 to 5:30 p.m. https://umassmed.zoom.us/meeting/register/tJwudu2gqzkuHd14KJtaLOZp9CnaqTOQdztH
Jan. 10 – The Sum of Us (full book) - noon to 1 p.m. https://umassmed.zoom.us/meeting/register/tJAoce-sqDIvG9GRsRMHPH_zsofydCf7_Gu9
Jan. 11 – Medical Apartheid – Chapters 1& 2 – noon to 1 p.m. https://umassmed.zoom.us/meeting/register/tJApdemqrjkqGdbGyOvZZkTDiOo5hwAzDJLd
Jan. 18 – Medical Apartheid – Chapters 10 & 11 – noon to 1 p.m. https://umassmed.zoom.us/meeting/register/tJMlduyoqz8vH9DeH4WnYOKCzjMTmyJ4f-Jd
Jan. 19 – The Sum of Us (full book) – noon to 1 p.m. https://umassmed.zoom.us/meeting/register/tJYlfu2grz4oH9By0MNtuO1krgotVQgQgrH-