In its efforts to create intentional spaces to support faculty and staff of color at UMass Chan Medical School, the Diversity and Inclusion Office (DIO) has formed two affinity groups. The Colorful Voices Network is a DIO- and employee-led community established to provide a forum for employees to develop skills, network, and support key diversity, equity and inclusion initiatives. AALANA, which represents African American, Latinx, Asian and Native American people, seeks to support and advance faculty of color through collaboration, celebration and knowledge.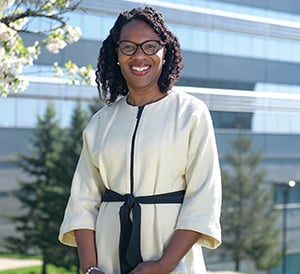 Colorful Voices met for the first time on Monday, Sept. 27. Guest speaker Shane Lloyd, an inclusion and engagement leader at Amazon, spoke about the impact of racism in the workplace. Lloyd led an exercise in which attendees were asked to define or share buzz terms around the words diversity, equity and inclusion. Through this exercise, the group discovered that the individual definitions of these words were paradoxes. While attendees defined the terms with nuance, which Lloyd noted as a good thing, he reminded attendees, "when it comes to an organizational identity, it is important for an organization to set some shared definitions so that we can all talk with each other instead of at each other. Putting together a shared definition of these terms gives everyone a shared leveraging point."
The Diversity and Inclusion Office is in the process of creating definitions for these terms to shape the new initiatives.
Although institutions recognize racial disparities exist, disconnects arise if they can't be identified within their own context. Lloyd called on group attendees to raise awareness to the disparities, practice allyship for one another, dismantle the systems that uphold them and engage in social change.
AALANA, which was introduced to faculty last year, met on Tuesday, Sept. 28, with a robust discussion of community building and professional development events.
Marlina Duncan, EdD, vice chancellor for diversity and inclusion, called these groups, "vital for community building among faculty and staff." Affinity groups are open to all who are willing to foster better relationships with their colleagues at the Medical School. The groups meet bi-monthly with virtual meeting dates announced in the DIO UpNext! newsletters.

To learn more about affinity groups, email the DIO at diversity@umassmed.edu.

Related stories on UMassMed News:

Annual lecture at UMass Chan addresses racism in health care; calls for commitment to dismantle it
Discussion of land acknowledgment is step toward more diverse, inclusive institution
UMass Medical School holds first Learners of Color Orientation