Rapid home tests for COVID-19 are a key focus in the fight against the coronavirus pandemic, with testing products flying off retail shelves and new research underway.
UMass Chan Medical School researchers, supported by the National Institutes of Health Rapid Acceleration of Diagnostics initiative, or RADx initiative, have completed a half-dozen studies to help bring over-the-counter home tests to market. Now, they're building on previous work to learn more about how effective and feasible the tests are for broad-based population screening and how consumers interact with the devices.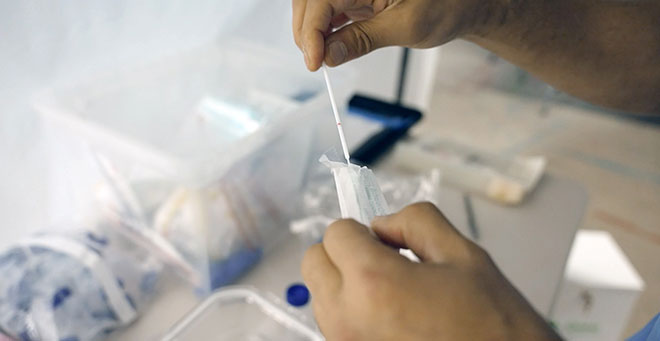 While demand from consumers is high, studies led by RADx Tech Clinical Studies Core will attempt to answer questions among regulators and others about tradeoffs in speed of results, affordability, convenience and accuracy between rapid home antigen tests and more costly, time-consuming PCR molecular tests.
Nathaniel Hafer, PhD, assistant professor of molecular medicine and lead investigator of the RADx Tech Clinical Studies Core Logistics Team, said rapid home antigen tests "aren't perfect, but they are pretty good. The Food and Drug Administration gave emergency use authorization to them because they hit certain minimum standards of accuracy. And the accuracy is a lot better for true negatives than true positives." That means if a person does not have SARS-CoV-2 infection, rapid antigen tests are almost always correctly negative. But if a person does have infection and is still very early in the course, then a second rapid antigen test is recommended after two to three days.
One new study, rolled out in Michigan in August, looks at self-reported behavior and testing over 12 weeks. Dr. Hafer said the aim of the Self Testing for Our Protection against COVID-19, or STOP COVID-19 study, is to track not only whether people test positive for infection but how their answers to survey questions on risk behavior change over time.
STOP COVID-19 "piggybacks" off the Say Yes! COVID Test public health intervention that provides free home testing kits to participants in select communities, through local health departments working with NIH and the Centers for Disease Control and Prevention.
Participants can enroll in STOP COVID-19 on their smartphone and take weekly surveys about their behavior, Hafer explained. Those who are deemed to engage in high-risk activities or to have been exposed to someone with COVID-19 will be given free Quidel Corp.'s QuickVue At-Home COVID-19 tests to use once a week. A participant in the high-risk group who tests positive with the home antigen test will be sent a PCR home test for Quest Diagnostics to confirm their result.
Hafer said another feature of the STOP COVID-19 study is to track interest in reporting their self-test results to local health authorities, like the way PCR results conducted by a central laboratory are reported.
So far nearly 1,600 people have joined the study, according to Hafer. Researchers hope to include 4,000 participants.
Another new study, which just launched, is called Test Us At Home. Hafer said the study is designed and being conducted in collaboration with the FDA to examine the ability of repeated use of rapid antigen tests to detect asymptomatic infection in the general population.
"That's the golden pot at the end of the rainbow," said Hafer. "If you have the ability to do rapid tests in the community at large, in people who are asymptomatic, you can detect infections and resolve things quickly, without shutting everything down."
RADx-supported researchers have designed the study with three multinational makers of home COVID-19 rapid antigen tests. Participants are screened for eligibility via smartphone and, if they meet certain criteria and enroll in the study, will be assigned to one of the three test brands. They will be sent rapid antigen tests to take at home every other day for two weeks. In addition, they will be sent PCR at-home tests to take and ship to Quest Diagnostics' central lab, to compare results.
"We're trying to see if and when people are positive on the PCR test and if and when people are positive on the antigen test," Hafer said. "How do the tests perform versus one another?"
Finding someone with an asymptomatic infection is "a needle in a haystack kind of thing," said Hafer. "But that's been the end goal of this from the beginning: finding asymptomatic people who are out in the population at large."
Researchers will continue the Test Us At Home study until at least 20 asymptomatic positive COVID-19 infections are detected on each device and UMass Chan, FDA and NIH confirm the certainty of the results. Enrollment may then move to a targeted approach depending on the number of asymptomatic positives detected.
Hafer said data collected from the study should also be available as a reference to help other companies applying for authorization from the FDA.
The RADx initiative partners with federal agencies, including the Office of the Assistant Secretary of Health, Department of Defense, the Biomedical Advanced Research and Development Authority, the CDC and the Food and Drug Administration.
Related stories on UMassMed News:
UMMS researchers take at-home COVID-19 testing to the streets in community enrollment events
Serial rapid antigen testing on par with PCR COVID-19 tests, RADx team reports