Emerging Professionals Summer Internship Program polishes career and job search skills
UMass Medical School welcomes talented college students from underrepresented backgrounds
The Emerging Professionals Summer Internship Program at UMass Medical School gives talented college students and recent graduates from backgrounds underrepresented in science and health care opportunities to explore administrative careers in academic medicine. The paid, 10-week program focuses on professions in a variety of areas including communications, information technology, diversity and inclusion, and community and government relations.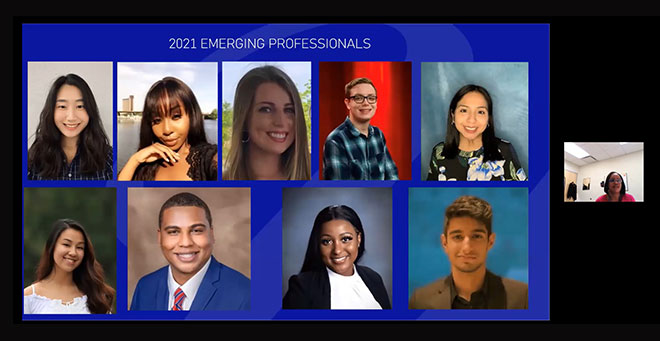 This summer's nine interns agreed that their experiences were valuable, exceeding their hoped-for outcomes despite taking place entirely remotely.
"This has been an amazing opportunity for me and my fellow interns to step into the professional world to learn and further our career goals," said Colleen Farrell, a rising senior at Saint Anselm College majoring in communications. "All of us were able to work on numerous projects in different departments based on our interests."
"This internship has been quite impactful on my future career," agreed Elizabeth Choi. "It has greatly improved my confidence when approaching things that are not familiar to me." Choi, an applied psychology and global public health graduate of New York University, is taking lessons learned as an IT data analytics intern as she begins graduate study in health informatics at the University of Michigan.
Each intern was matched with a mentor based on similar educational and career interest, giving them guidance and support from like-minded professionals. Executing complex real-world projects that support significant departmental initiatives gave them opportunities to polish their professionalism while learning more about what specific jobs entail.
Farrell assisted in drafting and submitting sponsorship proposals to support the Work Without Limits program, which engages employers to increase employment opportunities for people with disabilities. Communications intern Michelle Duong conducted peer institution social media analyses and created "Why UMassMed" videos. Working as a policy research intern in the Department of Family Medicine & Community Health reinforced recent public health graduate Vanessa Kibathi's ambition to work in health policy and advocacy. Rebecca Wamala was proud to help create materials for an upcoming orientation program for UMMS students of color in the Diversity and Inclusion Office.
Weekly Lunch and Learn workshops addressed practical job search matters including resume writing, interview dos and don'ts, and employment negotiations.
"When I took my first job after graduating I didn't think about negotiating my salary as I was just excited that I secured a job," said Choi. "Now I know it's important to recognize my self-worth and learn to navigate difficult or uncomfortable conversations."
The Emerging Professionals Summer Internship program is one of numerous UMMS educational and professional outreach programs that have served students from backgrounds underrepresented in biomedical sciences and health care over several decades.
"I think I speak for all of my fellow interns when I say that we are all leaving this experience more prepared for life beyond college," Farrell said at the program's closing ceremonies on Aug. 6.
2021 Emerging Professionals Summer Interns
Elizabeth Choi, BS, New York University—Information Technology
Michelle Duong, Clark University, '22—Communications
Colleen Farrell, St. Anselm College, '22—Work Without Limits
Ayaan Gill, BS, University of California San Diego—Information Technology
Vanessa Kibathi, BS, UMass Lowell—Family Medicine & Community Health
Deisy Rodriguez Ledezma, BA, Clark University—Family Medicine & Community Health
Tarik Terry, BS, Old Dominion University—Community and Government Relations
Dylan Thomas, Dean College, '21—Work Without Limits
Rebecca Wamala, Southern New Hampshire University, '22—Diversity and Inclusion