Vacation planning with a COVID-19 safety mindset
Sharone Green explains range of guidelines for summer 2021 travel
Summer is coming. Roughly one-half of the United States population is vaccinated against COVID-19. Many are itching to venture out from their 14-month global pandemic hibernation to travel and visit friends and family again.
According to UMass Medical School's infection control officer, Sharone Green, MD, a safe vacation starts with preparation, research and awareness of one's own risk and risks to others.
"I think it really depends on what you're doing. The important thing to realize with COVID is, you can't characterize your risk by a single thing that you do," said Dr. Green, associate professor of medicine and a specialist in infectious diseases. "That's what makes it complicated to have a uniform set of guidelines."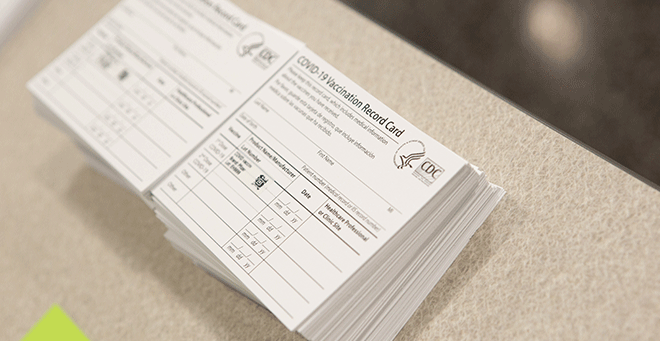 A big factor, of course, is whether one is fully vaccinated, meaning at least two weeks has passed since their final dose. The U.S. Centers for Disease Control and Prevention issued new guidance May 13 stating that vaccinated individuals do not need to wear masks indoors or outdoors, with a few exceptions, nor do they need to adhere to distancing guidelines from a personal safety standpoint. However, people must follow federal, state and local guidelines about masking and distancing as well as business and workplace guidance. For now, there are no immediate changes to masking and distancing guidelines in Massachusetts, but this may come in the near future.
"Being vaccinated obviously opens up many more avenues to you because you are extremely unlikely to get infected," Green said. "If you're a single couple traveling around, you can feel confident that if you wear your mask in public and avoid large, very dense crowds, you should be fine."
But people who have underlying health conditions, which might render the vaccine less effective, or those who are unvaccinated, should exercise more caution. In that case, driving to a cabin with outdoor activities such as hiking or kayaking and avoiding close contact with people outside of one's household might be a lower-risk choice than sightseeing in a big city or visiting an amusement park.
Similarly, traveling with children still requires extra precautions because vaccines haven't been authorized yet for children under age 12.
"People think it's not a big deal if children get sick with COVID-19. But it is a big deal when they come back, if they're going to be going straight into summer camp or a visit to grandma's house, or some other situation where they may transmit the virus," said Green.
Green said it makes sense to pack disinfecting wipes to clean surfaces frequently touched during travel by children, such as airplane armrests and tray tables, as well as to keep their hands clean.
Green recommended that people, whether vaccinated or not, wear a mask when in a public space, such as a hotel lobby, public transportation, or mall, even if the locale doesn't have a mask mandate.
And do your homework about your vacation destination before hitting the road, Green advised. What is the current infection risk in the local community? What guidelines and regulations are in place, both for the destination and for one's home community?
The New York Times' interactive COVID-19 risk maps and the CDC's travel guidance are good resources, according to Green.
"You have to recognize that while you're traveling, things can flip on a dime," Green said. Major disruptions have occurred in international travel, such as the recent U.S. travel ban for individuals who have been in India in the previous 14 days, with exceptions for U.S. citizens and certain others. But domestically, states have also frequently updated their own travel restrictions.
Some destinations require COVID-19 testing upon arrival, so travelers should be prepared to factor in timing—usually within 72 hours of boarding a plane or arrival—and whether the type of test and test provider are accepted by local authorities.
Green encouraged travelers to be careful about choosing a type of transportation, too. Driving to a vacation place is safer than flying or taking a bus or train.
"Airplanes themselves are not super high risk because they have very good airflow," she said. "But when you're at the airport, you're mixing people from all over the place. That is the reason that CDC Director Rochelle Walensky has advised against air travel, because of the concern that we're going to be moving variants all over the place and spreading infection of potentially more transmissible viruses that may cause more severe disease."
Eating out is the highest risk activity for people who are traveling, Green continued. "The risk of getting COVID in a restaurant is more than twice the risk somewhere else," she said. "That is related in part to ventilation and in part to masks being off while people eat."
Dining outdoors with people you know are vaccinated or getting takeout are safer options.
"I think that people have to recognize that when they travel, they're among a lot of people who may come with different ideas about what is safe and what is not safe," said Green. "So as long as people keep that in their mindset, and they take precautions depending on the setting they put themselves in, that is the goal for safer travel."
Related stories on UMassMed News:
Early data from TeenCOVE study shows Moderna COVID-19 vaccine effective, safe for ages 12-17
Medical students improve access to COVID-19 vaccine information for multilingual community
Keeping the workplace safe: UMMS infection control officer forges COVID response