On Sunday, June 6, UMass Medical School will celebrate the accomplishments of the Classes of 2021 at its 48th Commencement Ceremony and award honorary degrees to Dan Riccio and Diane M. Casey Riccio, PhD, both highly accomplished graduates of the University of Massachusetts and committed supporters of biomedical research at the Medical School; Henry M. Thomas, III, JD, president and CEO of the Urban League of Springfield and former chair of the University of Massachusetts Board of Trustees; and Michael P. Angelini, Esq., a civic leader in Central Massachusetts who serves as chairman of the Worcester-based law firm Bowditch.
Due to construction activities impacting the Medical School campus green, the in-person, outdoor ceremony will be held at Coughlin Field on the campus of Worcester State University. More than 250 students from the School of Medicine, the Graduate School of Nursing and the Graduate School of Biomedical Sciences are expected to receive degrees.
Dan Riccio and Diane M. Casey Riccio, PhD, Massachusetts natives and UMass graduates, are the most generous alumni donors in the history of the Medical School, having committed millions to meaningfully advance neuroscience and ALS research initiatives at UMMS. In 2018, the Dan and Diane Riccio Fund for Neuroscience was established to support investigation, collaboration and innovation in the neurosciences throughout the institution and beyond; and to begin a seed grant program at UMMS that recently distributed four awards to faculty. Diane Riccio earned her doctorate from the GSBS in 2003. She currently works to raise funds for dementia care, support and research. Dan Riccio earned his undergraduate degree in mechanical engineering at UMass Amherst. After 23 years of innovation, service and leadership at Apple, Inc., most recently as senior vice president of hardware engineering, he transitioned in 2021 to a new role focusing on a new project for Apple.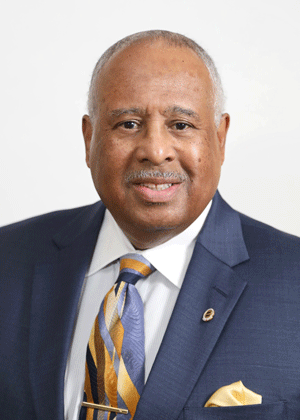 Henry M. Thomas, III, JD, has served as president and CEO of the Urban League of Springfield, Inc., since 1974 and, at the age of 25, became the nation's youngest appointed leader of a National Urban League affiliate. A native of Springfield, Thomas founded the New Leadership Council Charter School; established Step Up Springfield; was the first African-American to chair the Springfield Police and Fire Commissions; and previously led Camp Atwater in North Brookfield, the oldest overnight camp for African American youth in the United States. After his appointment to the UMass Board of Trustees by Gov. Deval Patrick in 2007, Mr. Thomas distinguished himself with a 13-year tenure—including two and a half years as board chair—and a deep commitment to the state's premiere public research university. His leadership and advocacy were instrumental in the Medical School's 2015 establishment of its first-ever regional campus, UMMS-Baystate, in partnership with Baystate Health in Springfield, focused on improving the health and well-being of Western Massachusetts' medically underserved rural and urban communities. The Class of 2021 includes the inaugural cohort in the School of Medicine's Population-based Urban and Rural Population Health (PURCH) track. Thomas earned bachelor's and master's degrees from American International College and a juris doctor degree from Western New England University School of Law.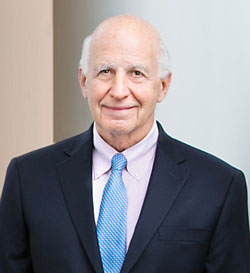 Michael P. Angelini, Esq. has for more than 50 years been an integral contributor to the Worcester community and to one of Worcester's preeminent law firms, Bowditch. A trial attorney and business advisor, Angelini was appointed as the firm's chairman in 1997. He has argued cases in federal and state courts that have shaped the field of business law. He has further advanced the legal profession by founding the Worcester County Bar Foundation, and by serving as a member of the Judicial Nominating Committee of the Commonwealth of Massachusetts, as a special prosecutor for the Massachusetts Commission on Judicial Conduct, and as a member of the Criminal Justice Act Board for the Federal District of Massachusetts. He twice received the Massachusetts Bar Association's Community Service Award. Mr. Angelini is widely regarded for dedicating substantial time and talent to service on numerous civic and corporate boards, including as chair of the Massachusetts Port Authority, the Hanover Insurance Group, the Worcester Foundation for Biomedical Research, the United Way of Central Massachusetts, and the Greater Worcester Community Foundation; and as a member of the Boards of the Massachusetts Turnpike Authority, the former University of Massachusetts Medical Center Foundation, the Worcester Chamber of Commerce, Clark University and various financial institutions, including Commerce Bank and Trust Company. He is chair-elect of the Buzzards Bay Coalition, an environmental organization dedicated to the protection of Buzzards Bay and its watershed. He is a graduate of Wesleyan University and Duke University School of Law.
Each graduate will be allowed to invite four guests to the ceremony. In adherence with the state's health and safety guidelines, all in-person guests will be required to preregister and present a valid ticket upon arrival. The ceremony will begin at noon (unless inclement weather necessitates an earlier or later start time) and will be available to view live on UMass Medical School's Facebook and YouTube pages.