Katherine Fitzgerald and Nikolaus Grigorieff elected to National Academy of Sciences
Record number of women elected to academy in 2021
Katherine Fitzgerald, PhD, an international leader in the field of innate immunity, and cryo-EM pioneer Nikolaus Grigorieff, PhD, have been elected to the National Academy of Sciences in recognition of their distinguished and continuing achievements in original research.
The private, nonprofit society of distinguished scholars is charged with providing independent, objective advice to the nation on matters related to science and technology. The Academy elected 120 new members on April 26, including a record 59 women and 30 international members.
"I am delighted to be elected to the NAS and to have my lab's work recognized with this incredible honor," said Dr. Fitzgerald, the Worcester Foundation for Biomedical Research Chair, professor of medicine and director of the Program in Innate Immunity.
Research in the Fitzgerald lab is focused on understanding the molecular mechanisms controlling the inflammatory process. Fitzgerald and her team use immunology, biochemistry, molecular biology and genetics to determine how the immune system discriminates between pathogens and host molecules to both protect the host from infection and avoid damaging inflammatory diseases. Fitzgerald has made numerous novel discoveries, including the identification of Toll-like receptor adapter molecules; TANK binding kinase-1 (TBK1) as the IRF3 kinase; identification of the AIM2 inflammasome; defined key regulators of the NLRP3 inflammasome; and uncovered new evidence for the importance of long-coding RNAs in innate immunity.
Fitzgerald has a bachelor's degree in biochemistry from University College Cork, and a PhD from Trinity College Dublin, both in Ireland. She joined the faculty as an assistant professor in 2004. In 2020, she was elected to the American Academy of Microbiology.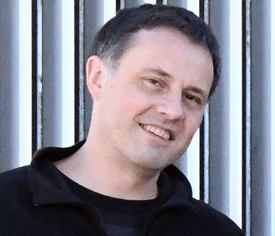 "I am grateful to all my colleagues for their support over the past 20 years," said Dr. Grigorieff, Howard Hughes Medical Institute Investigator and professor of RNA therapeutics.
Grigorieff uses a 300,000-volt electron microscope to see molecules that operate as minute biological "machines" inside of cells. He writes his own specialized computer software to transform data from the microscope into vivid, three-dimensional images of cell components. He has a PhD from the University of Bristol in the United Kingdom, and has been investigator of the Howard Hughes Medical Institute since 2000.
The National Academy of Sciences was established by an act of Congress signed by President Abraham Lincoln in 1863. As the role of science has expanded in the United States, the academy has grown to include the Institute of Medicine, the National Academy of Engineering and the National Research Council.
Fitzgerald and Grigorieff join these UMMS faculty previously elected to the academy:
Raúl Padrón, PhD, professor of radiology;
Roger J. Davis, PhD, FRS, the Arthur Smith Chair in Cancer Research and chair and professor of molecular medicine;
Craig C. Mello, PhD, Howard Hughes Medical Institute Investigator, the Blais University Chair in Molecular Medicine, distinguished professor of RNA therapeutics and professor of molecular medicine;
Victor R. Ambros, PhD, the Silverman Chair in Natural Sciences and professor of molecular medicine; and
Michael R. Green, MD, PhD, the Lambi and Sarah Adams Chair in Genetic Research, chair and professor of molecular, cell & cancer biology, professor of molecular medicine, vice provost of strategic research initiatives, director of the UMass Medical School Cancer Center, and co-director of the Li Weibo Institute for Rare Diseases Research.
Related stories on UMassMed News:
Katherine Fitzgerald and Sanjay Ram elected to American Academy of Microbiology
Katherine Fitzgerald focuses on novel discoveries in innate immunity
Fitzgerald named again in Thomson Reuters Report on most influential scientific minds
Breakthrough technology enables UMass Medical School scientists to view gene translation in action