Excitement is building for Match Day, the annual milestone when soon-to-be graduates of the School of Medicine and medical schools across the country learn where they have matched for the next step in their professional journey: residency training.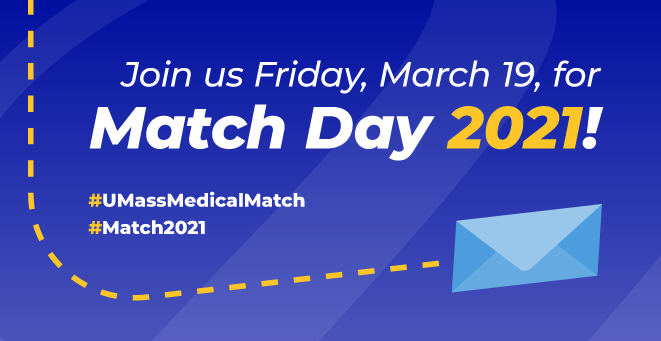 UMass Medical School's Match Day celebration will be held Friday, March 19, at noon. The Class of 2021 marks a milestone for the Medical School, as the first cohort of the Population based Urban and Rural Community Health track, who completed much of their training at the UMMS-Baystate regional campus in Springfield, will graduate.
The pandemic requires a different approach this year and so the 2021 UMMS Match Day celebration will be a "drive-in" event at the South Street campus, according to an announcement by Chancellor Michael F. Collins, Dean Terence R. Flotte, and Sonia Chimienti, MD, vice provost for student life and associate dean for student affairs, School of Medicine. Details will be provided separately to members of the SOM Class of 2021.
All members of the UMMS community are invited to share in the excitement of this year's match on March 19 beginning at 11:30 a.m. by tuning into a live stream of the celebration on the UMMS Facebook page at www.Facebook.com/UMassMed and YouTube page at www.youtube.com/c/UMassChanMedicalSchool. All are encouraged to follow UMMS on Facebook, Twitter and Instagram for Match Day coverage and to share congratulations and well wishes.
Commencement
Meanwhile, planning is underway for the 2021 UMMS Commencement ceremony on Sunday, June 6. While organizers hope that at least some components of a celebration for the Class of 2021 may be safe to hold in person, they will continue to be flexible and base decisions upon state and federal guidance, local epidemiology and the advice of infectious disease experts. Therefore, information about the 2021 Commencement ceremony will be shared in the coming months as plans become clearer.
"Members of the Class of 2021 in the Graduate School of Biomedical Sciences, Graduate School of Nursing and School of Medicine have represented our institution well despite the unforeseen hardships and challenges that will forever be linked to the final year of their graduate education," said Chancellor Collins. "Throughout the pandemic, these selfless and dedicated graduates have served our communities and vulnerable populations in meaningful ways. Collectively, members of the UMMS Class of 2021 are ready for the next step in their professional lives and we will be proud to call them colleagues and alumni of our great institution."
Related stories on UMassMed News:
First UMass Medical School student to complete dual-degree MBA program in June
School of Medicine Class of 2021 students match early in competitive military and urology programs