A UMass Medical School neurosurgery research team has unlocked a genetic component underlying a mysterious brain disorder known as idiopathic normal pressure hydrocephalus (iNPH), a condition whose symptoms are often mistakenly attributed to Parkinson's or Alzheimer's disease, or simply old age.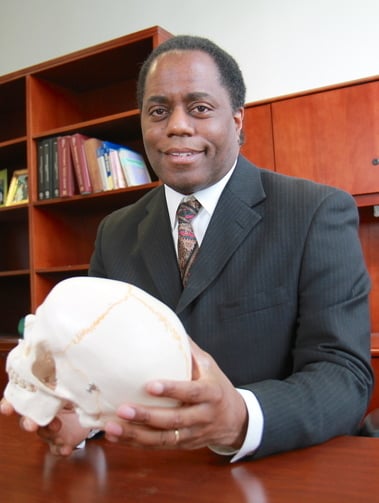 The research by Mark D. Johnson, MD, PhD, the Maroun Semaan Chair in Neurosurgery and chair and professor of neurological surgery, and colleagues, was published Jan. 18 online in the journal EMBO Molecular Medicine. An additional commentary regarding the article appeared in the journal's News and Views section.
INPH is a neurological disorder characterized by excessive accumulation of cerebrospinal fluid in the brain, with symptoms that include walking and balance difficulty, incontinence and cognitive impairment. According to the Hydrocephalus Association, about 750,000 Americans suffer from iNPH. It has been estimated that one in seven people living in nursing homes has iNPH, but most are undiagnosed or misdiagnosed because symptoms can resemble other disorders.
"For a long time, there was a debate about whether it was even a real disease or was it something else—an already known disease. So that is a debate that we were trying to solve," said Dr. Johnson. "This publication and additional yet-to-be published data demonstrate that this is a distinct disease. And it points us in the direction of what's wrong and may help us understand why the patients develop these symptoms."
Using sophisticated techniques to sequence the DNA of patients with iNPH, Johnson and his team identified damaging mutations in a gene called CWH43 in 15 percent of iNPH patients. These mutations were found statistically more often among iNPH patients than in the general population.
The researchers then used genetically engineered mice to explore the mechanism by which mutant CWH43 proteins lead to symptoms of iNPH. Mice with the mutations displayed hydrocephalus, gait and balance abnormalities, and other functional and cellular changes leading to excess cerebrospinal fluid in the brain.
The findings provide new mechanistic insights into the origins of iNPH and may provide a blueprint for new treatments for this disorder, the researchers say.
Johnson's hunt for the cause of iNPH goes back more than a decade, as he was studying brain cancer. It was at that time he met businessman and philanthropist Frederick B. "Rick" Sontag, whose wife, Susan Sontag, developed iNPH symptoms after surviving a brain tumor years earlier. Many people assumed her symptoms were related to the brain tumor, Johnson said. But having successfully treated people with normal pressure hydrocephalus, he placed a shunt to drain spinal fluid from Mrs. Sontag and her symptoms improved, at least for some time.
Sontag's foundation had given Johnson a Distinguished Scientist Award grant in 2004 to pursue brain cancer research. Seeing potential in focusing research on the lesser-known iNPH, the foundation made a subsequent donation in 2013 to Brigham & Women's Hospital, where Johnson was on staff as a neurosurgeon, to develop an adult hydrocephalus program.
"I wanted to investigate what causes iNPH, but I had no preliminary data," Johnson said. "Rick just did that on faith that we would be able to make progress. And it has taken many years for us to get to this point."
Johnson further developed his research since coming to UMass Medical School and UMass Memorial Medical Center as chair of the Department of Neurological Surgery in 2016.
"I think the most significant part of this research is that Mark has gotten down to the root cause of what's happening [in iNPH]," Sontag said. "He is on the path of finding something deeper as a cause and maybe something that will treat it."
Sontag believes there is a good chance that Johnson's team's findings will spark additional interest in understanding iNPH among other scientists.
Johnson was recently appointed to serve as a scientific advisor to the Sontag Foundation, which has invested $38 million in support of brain cancer research.
Related stories on UMassMed News:
LISTEN: For Mark Johnson, neurological surgery is never 'routine, mundane and inconsequential'
Mark Johnson named vice president of American Academy of Neurological Surgery
Expert's Corner: Mark Johnson studies a treatable brain disorder that often goes undiagnosed