UMass Medical School joins Autism Learning Health Network
National clinical research network focused on improving care for children and families
The UMass Medical School Eunice Kennedy Shriver Center's Center for Autism and Neurodevelopmental Disorders (CANDO) clinic, in partnership with the Division of Developmental Behavioral Pediatrics, has joined the Autism Learning Health Network of Autism Speaks. The network convenes academic leaders in autism and other neurodevelopmental and intellectual disabilities nationwide to standardize and share clinical data collection and outcomes research to improve care for children and families affected by autism spectrum disorder.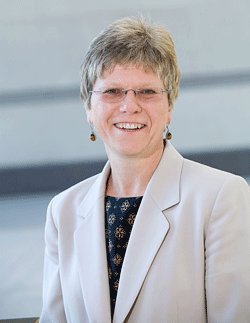 "We are delighted to partner with our behavioral pediatrics colleagues to join with 20 other academic clinics that are collecting data as part of routine clinical care, linking it across sites, analyzing it on a regular basis and sharing findings on outcomes and best practices," said Jean A. Frazier, MD, the Robert M. and Shirley S. Siff Chair in Autism, professor of psychiatry and pediatrics, and executive director of the Shriver Center. "We want to constantly use this feedback to improve the quality of care that we deliver. It's a wonderful opportunity."
A learning health system, defined by the Institute of Medicine as "a system in which science, informatics, incentives and culture are aligned for continuous improvement and innovation," brings together patients, families, doctors and researchers to improve health care; in this case, for people with autism spectrum disorder. Rather than waiting for individual clinicians to hear of new treatments and gradually incorporate them into their everyday practice, a learning health network constantly monitors its activities, determines what does and doesn't work, and accelerates the adoption of new treatments.
"A key component of a learning health network is the involvement of patients and parents," said Dr. Frazier. "They're essential partners in understanding the experience of their care and keeping the focus on the outcomes that are important to them."
Launched in 2018, the Autism Health Learning Network expands on its predecessor, the Autism Treatment Network, which initially concentrated on the unique medical needs of children on the autism spectrum. Going forward, there will be much greater focus on improved identification and treatment of symptoms of anxiety, irritability and attention deficit hyperactivity disorder. Families report that these behavioral and emotional symptoms most adversely affect quality of life.
"Families identified that some of their biggest concerns were emotional and behavioral conditions," said Frazier. "They rated multiple domains, but psychiatric concerns rose to the top."
Baseline data from the learning health network show that 93 percent of families reported these challenging behaviors, with more than four out of five classifying them as moderate, severe or extremely severe. Most striking, 61 percent reported these behaviors occurring every day, often many times a day.
The Shriver Center is dedicated to understanding and improving the challenges faced by individuals with intellectual and developmental disabilities, including autism spectrum disorder. In addition to directing the center and the CANDO clinic, which she founded, Frazier is co-director and founder of the Child and Adolescent Neurodevelopment Initiative (CANDI). CANDI is a broad research program that aims to advance the understanding, diagnosis and treatment of individuals with neurodevelopmental disorders.
In addition to sharing research and clinical data with the Autism Learning Health Network, the Shriver Center and the Division of Developmental and Behavioral Pediatrics will participate in the network's Extension for Community Healthcare Outcomes (ECHO) distance-learning program. ECHO Autism trains primary care providers in best practices for autism care so they can better serve patients with ASD in local health care settings.
Related stories on UMassMed News:
Remillard Family Community Service Fund awards eight grants to faculty and students
Shriver's Autism Insurance Resource Center receives grant from Flutie Foundation
Frazier named director of Eunice Kennedy Shriver Center at UMMS
New ASD test can lead to earlier treatment, better outcome, UMMS pediatrician tells WCVB-TV