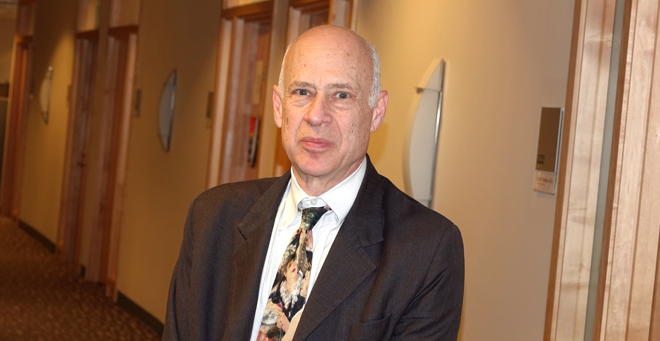 In recognition of his unique contributions to UMass Medical School, Robert W. Finberg, MD, has been named a distinguished professor of medicine. This distinction reflects Dr. Finberg's 21 years as a clinician, infectious diseases researcher, teacher and valued member of the UMMS community, according to Chancellor Michael F. Collins.
"Dr. Finberg's contributions as a physician-scientist include more than 300 publications, more than 40 years of continuous funding by the National Institutes of Health and numerous research grants from the Department of Defense, the Defense Advanced Research Projects Agency and multiple other agencies and companies," Chancellor Collins said. "His work allows us to better understand viral receptors and entry to host responses, and most recently, methods to be responsive to pandemic influenza and now the SARS-CoV2 pandemic.
Finberg's impact in shaping the Medical School's response to the pandemic is particularly noteworthy. He has served as principal investigator on more than half a dozen clinical trials related to COVID-19. UMMS was one of the top enrolling sites in the world for the NIH's remdesivir trial and was an important contributor to the Pfizer-BioNTech COVID-19 vaccine trial.
"The clinical evidence gathered from these trials has influenced the way patients around the world have been cared for, and, as Americans begin to receive the Pfizer-BioNTech vaccine, we are privileged to observe, in Dr. Finberg's example, how the expertise of physician-scientists will help to end the pandemic," Collins said.
In addition, under Finberg's leadership as chair, the large and multifaceted Department of Medicine has been productive in every mission area—research funding, educational impact and clinical revenue.
"For these reasons we are also designating Dr. Finberg as chair emeritus of the Department of Medicine. With humility about his own accomplishments, Dr. Finberg will tell you that he is most proud of his contributions to the career development of the many students, residents and faculty members whose illustrious careers and achievements have brought international recognition to our medical school and health system," Collins said.
Finberg will remain a dynamic member of the UMMS faculty, with significant active and pending external research funding, Collins said.
Related stories on UMassMed News:
Robert Finberg details next steps for COVID vaccine
LISTEN: Robert Finberg advises 'Wear your mask, get the flu shot and protect your neighbors'