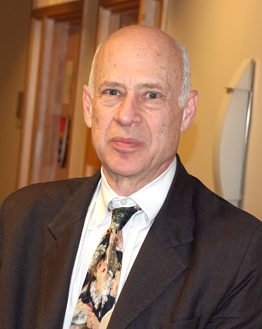 First results from a Pfizer and BioNTech Phase III messenger RNA COVID-19 vaccine trial, in which UMass Medical School is participating, show promising findings, with more than 90 percent effectiveness in preventing infection with the SARS-CoV-2 virus, the companies announced on Monday, Nov. 9.
The interim analysis by an independent data monitoring committee puts the proposed vaccine on track for emergency use authorization review from the Food and Drug Administration by the end of November, according to a news release from Pfizer.
"We are proud that UMass Medical School was part of this trial and that so many dedicated people worked to make it happen," said Robert W. Finberg, MD, the Richard M. Haidack Professor in Medicine and chair and professor of medicine. "It is good news for the world because it demonstrates that there is something that is effective against COVID-19, and this is just beginning."
No serious safety concerns have been observed, although safety and additional efficacy data continue to be collected.
The study enrolled 43,538 healthy participants across 120 centers internationally since late July. Forty-two percent come from diverse racial and ethnic backgrounds.
UMMS enrolled a diverse group of 131 volunteers, Dr. Finberg said.
"Certain areas in Worcester have had a much higher incidence of COVID infection," he said during the initial enrollment period in August. "We targeted those areas to recruit volunteers."
Half of the participants received the proposed vaccine and half received a placebo.
The first overall interim analysis evaluated 94 confirmed cases of COVID-19 in trial participants, measured at seven days after the second dose. As researchers look at the ongoing efficacy of the vaccine, the reported efficacy rate above 90 percent may vary as the study continues.
There will be another analysis by the data monitoring board when a total of 164 confirmed COVID-19 cases have accrued. It will also evaluate the potential for the vaccine candidate to provide protection against COVID-19 in those who have had prior exposure to SARS-CoV-2, as well as vaccine prevention against severe COVID-19 disease. New secondary endpoints, evaluating efficacy based on cases accruing 14 days after the second dose, will be added as well, with approval of the FDA.
Pfizer expects to produce globally up to 50 million vaccine doses in 2020 and up to 1.3 billion doses in 2021.
Media coverage:
WBUR/NPR: 'A Sense Of Hope': Experts Weigh In On Early Data From Pfizer's Coronavirus Vaccine Trial
WCVB-TV: Pfizer says early COVID-19 vaccine data show 90% efficacy rate
Associated Press/WGBH: Pfizer Says COVID-19 Vaccine Is Looking 90% Effective
Spectrum News:UMass Medical Official: COVID-19 Vaccine News is Preliminary
Worcester Telegram & Gazette:UMass Medical School infectious disease doctor, part of Pfizer study: 'It's very encouraging'
Related stories on UMassMed News:
Robert Finberg advises wear your mask, get the flu shot and protect your neighbors
Boston Globe, CNN: UMass Medical School seeking to enroll diverse communities in COVID vaccine trial
UMass Medical School announces participation and enrollment for vaccine trial candidate against COVID-19