New UMMS Gold Humanism Honor Society chapter to honor the 'art of medicine'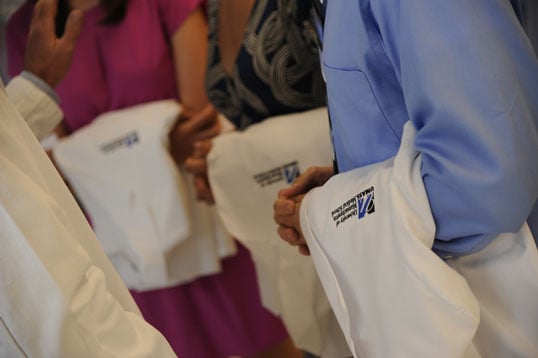 The Gold Humanism Honor Society is a signature program of the Arnold P. Gold Foundation, which also designed the White Coat Ceremony, a beloved tradition for first-year medical students and their families.
In a move to formally recognize the foundational value of humanism to the practice of medicine, the School of Medicine at UMass Medical School has successfully applied for approval to start a chapter of the Gold Humanism Honor Society. Inaugural members of the society, which is sponsored by the Arnold P. Gold Foundation, will be elected this fall from the SOM class of 2015.
"I have long been an advocate for the concept of UMMS having a GHHS chapter, given our school's strong idealistic mission, as the state's only public medical school, to be responsive to the health care workforce needs of the commonwealth," said Terence R. Flotte, MD, the Celia and Isaac Haidak Professor of Medical Education, executive deputy chancellor, provost, and dean of the School of Medicine. "The Gold Foundation serves as an exemplar of the ideals of medicine that we hold dear here at UMMS. Having a GHHS chapter will allow us to formally recognize some of those ideals on an individual level."
The Gold Foundation is an international non-profit organization committed to fostering and maintaining a culture of compassion, caring and respect in health care. The honor society, one of its signature programs, recognizes students, residents and faculty who practice "patient-centered care by modeling the qualities of integrity, excellence, compassion, altruism, respect and empathy." The Gold Foundation also designed the White Coat Ceremony, which has become an important and beloved ritual for first-year medical students and their families.
Suzana Makowski, MD, and Michael Ennis, MD, coordinated the application process, which was largely carried out by current students eager to highlight the humanism that already serves as a central value of the SOM curriculum.
"We proposed the idea to the students and they ran with it," said Dr. Ennis, clinical professor of family medicine & communityhealth and co-director of the SOM learning communities.
"The practice of medicine is seen as a combination of the art and science of practicing. There are a lot of programs here at UMMS that recognize excellence in the science of medicine. This organization honors excellence in the humanistic aspect of practicing medicine," said Dr. Makowski, assistant professor of medicine. "Part of the impetus for wanting to start a GHHS chapter here is the remarkable students that we see every day," Makowski added.
"AOA [Alpha Omega Alpha Honor Medical Society] recognizes academic excellence in medical students," said Ennis. "In many aspects, GHHS parallels AOA, but instead acknowledges humanism in medical students."
The UMMS chapter of the GHHS will be somewhat different from others—there are now 128 chapters nationally—in that the medical students helped develop a more robust peer nomination form that includes criteria that align with the SOM competencies for medical education. Learning community mentors will also play a role in nominating students. With an in-house GHHS selection committee making the final decision, up to 15 percent of each class can be inducted into the GHHS.
Mentoring and service are the key responsibilities of membership in GHHS, as is spreading the word about the essential value of humanism in medicine; the new inductees will decide as a group how they will fulfill this requirement. Examples from other medical schools include a pre-Match Day retreat that brings together fourth-year medical students to reflect on their clinical experiences; a proposed expansion of humanism in the formal curriculum; creation of a journal of creative works by medical students and doctors; and presentation of a grand rounds lecture on humanism in medicine. Many members of GHHS chapters also engage in coordinated community outreach projects that demonstrate humanism in action.
In addition to international recognition of humanistic achievement, GHHS provides members with leadership development opportunities; chapter awards and grants; networking and mentoring connections; professional conferences, lectures, and workshops; and resources to promote humanistic care in their community.
Past recipients of the Leonard Tow Humanism in Medicine Award given by the Gold Foundation and the School of Medicine are encouraged to become members of the UMMS GHHS chapter, and in the future, the UMMS recipient of this award will be chosen from among the members of the GHHS.