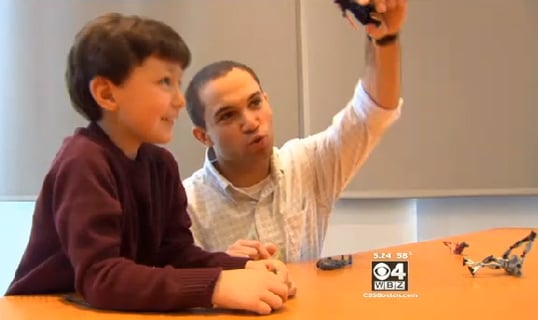 The UMass Medical School Sidekicks program that pairs first- and second-year medical students with children facing life-threatening illnesses is a "win-win" arrangement for the children, their families and the aspiring doctors, according to a WBZ TV 4 Healthwatch report.
"The medical students find it very meaningful," Naheed Usmani, MD, co-founder and faculty adviser for Sidekicks and clinical associate professor of pediatrics, told WBZ TV reporter Mallika Marshall, MD, for the April 10 broadcast. "I think it really anchors them to why they went into medicine, which you can lose in the first two years of basic sciences."
Tricia Campero, whose son Christian receives treatment for T-cell acute lymphoblastic leukemia (ALL) at UMass Memorial, credits her son's Sidekick, Walter Palmer, SOM '16, with changing the way her son feels about going to the hospital.
"He was scared in the beginning, but as soon as he knows that Walter's coming, that's all he's thinking about," Campero said.
Christine Fitzgerald, whose son Liam is in remission from ALL, said his Sidekick, Julie Tabroff, SOM '14, has become a dear family friend.
Watch the full story, below:
UMass 'Sidekicks' Program Matches Medical Students With Sick Kids
Related stories on UMassMedNow:
Boston Globe: Sidekicks pairs medical students with sick kids
UMMS Sidekicks program a model for NYU