UMass Medical School 'lights it up blue' for autism awareness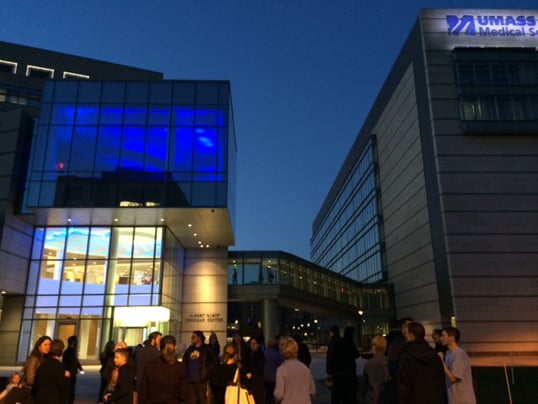 Photo courtesy of Yael Dvir, MD
Parents, children, friends, community members, and professionals gathered to celebrate autism awareness and acceptance at UMass Medical School and UMass Memorial Health Care's Light It Up Blue observation of International Autism Awareness Day on April 2.
Attendees enjoyed a Services Providers Fair, live music, dancing and refreshments before the ceremony, pictured here, in which the Cube in the Medical School's Albert Sherman Center was illuminated with blue lights as part of the international Autism Speaks Light It Up Blue observation.
Earlier in the evening, Jean Frazier, MD, the Robert M. and Shirley S. Siff Chair in Autism, professor of psychiatry and pediatrics, and medical director of the Center for Autism & Neurodevelopmental Disorders at UMass Medical School (CANDO) introduced the clinic's team. CANDO provides a single point of entry for comprehensive evaluations and integrated, interdisciplinary short-term treatment for children ages 3 to 13 years old with autism spectrum disorders and other neurodevelopmental disorders.
The event was hosted by the Division of Child & Adolescent Psychiatry and coordinated by Celia Brown, Martha Castro, Kara Manchester and Lauren Venuti of the division's Child and Adolescent Neurodevelopment Initiative, with support from numerous community sponsors.